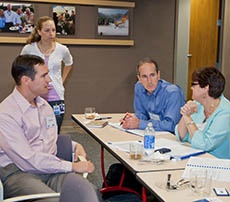 Each year, more public companies are publishing corporate sustainability reports to disclose economic, environmental and social aspects of business. Currently, 80 percent of the world's 250 largest companies publish sustainability reports aligned with the Global Reporting Initiative (GRI) framework. Organizations and stock exchanges encourage it more all the time. The popular reporting framework is about to undergo some significant changes, and Burns & McDonnell is excited to host the Midwestern launch of two GRI Master Classes to help users better understand what's ahead.
GRI will launch the fourth generation of its reporting framework (G4) at its Global Conference on Sustainability and Reporting May 22-24 in Amsterdam. Just two weeks later Burns & McDonnell will host the Midwestern launch of two GRI Master Classes — G4 Download and G4 Applied to the U.S. Context — as part of its sixth annual Sustainability Summit. These two pre-conference workshops provide practical guidance and lessons on navigating some of the challenges associated with sustainability reporting.
GRI Master Class: G4 Download
Learn about the freshly released G4 guidelines for the first time. GRI and ISOS Group will explain GRI's new guidance for governance and remuneration, value chain and boundary, management approach and materiality, and levels of application. They will also explain why and which new disclosures have been created for greenhouse gases, anti-corruption and supply chain reporting. You will hear how G4's renewed focus on materiality will impact your reporting and how GRI's inventory of disclosures can be used to create a report that is truly tailored to your organization.
GRI Master Class: G4 Applied to the U.S. Context
Learn how GRI's G4 Sustainability Reporting Framework can be applied within the U.S. legal and regulatory context. GRI and ISOS Group will explain how GRI principles and GRI disclosures can be interpreted to maximize your organization's transparency.
You'll also have the opportunity to hear first-hand from GRI sector leaders — including Sprint, a GRI reporter; Bloomberg, a GRI report data user; and Curran & Connors, a GRI report designer — about their experiences. Bloomberg will speak about the intersection of Bloomberg environmental, social and governance (ESG) data and GRI. Additional information is available on the workshop agenda.
The GRI G4 Master Classes — conducted by Nancy Mancilla of ISOS Group, Sustainability Summit speaker and GRI-certified training partner, and Marjella Alma of GRI Focal Point USA — will take place from 1-6 p.m. on Thursday, June 6 at the Burns & McDonnell World Headquarters in Kansas City, Mo. Registration is $450 and includes both classes. If you're interested in attending, register today. Space is limited.
Be sure to subscribe to the Burns & McDonnell World blog for news on the Sustainability Summit and related sustainability topics, including blog posts from some of our presenters. And if you're on Twitter, follow @BurnsMcDonnell and hashtag #bmcdss13 leading up to and during the conference. We hope to see you there!
Kindra LeFevre is a GRI certified sustainability specialist at Burns & McDonnell. She assists FORTUNE 500 companies in developing corporate sustainability reports that follow the internationally recognized GRI G4 framework.