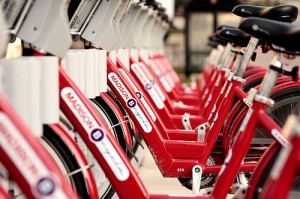 A lot of us at Burns & McDonnell are big fans of bicycling — and since we're coming up on National Bike Month, we're celebrating with a Bicycle Rodeo from 9 a.m. to 1 p.m. on April 27.
Now that the weather's warm, it's time to hit the road — and if you can't wait to head out for a spin, you're not alone. The National Sporting Goods Association reported that the number of Americans who ride bikes is greater than those who ski, golf and play tennis combined. And a Bureau of Transportation Statistics survey reports that the majority of bike riders do so for exercise/health (41 percent) and recreation (37 percent). Whether you and your family are biking to work, school or simply around the neighborhood, we want to help you have a fun and safe experience — and that's what our Bicycle Rodeo is all about.
Strap on your helmets, dust off your bike seat and bring your wheels to the Summit Street parking lot of our world headquarters, located at the corner of Summit Street and West Bannister Road, for all sorts of bike-themed fun (rain or shine). Your kiddos will be ready to hit the road after learning about bike safety rules and hand signals. The rodeo also includes distracted driving demonstrations to help keep you and your family safe while you ride. And after they've soaked up all that bike-related knowledge, your kids can test their skills in our on-site obstacle course.
Sounds like fun, right? If you're headed to the event, here's what you should bring:
Bicycle
Helmet
Weather-appropriate clothing
Additional safety gear (optional)
Knee pads (optional)
Elbow pads (optional)
We'll have a limited number of bicycles on hand for those who don't have them or can't transport them to the rodeo. And the first 50 kids to register for Bicycle Rodeo will receive a helmet, so secure your spot now! We'll also have all sorts of bike-related goodies including water bottles, reflective safety stickers and more, as well as light snacks and refreshments. We hope to see you there — we've got our bikes tuned up and ready to go!
Image: Phil Roeder via Compfight cc