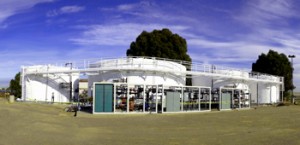 Does turning food waste into electricity sound like a pipe dream? Guess again. A game-changing transformation is occurring in Sacramento, Calif., where CleanWorld's commercial-scale, anaerobic digestion system is converting 25 tons of food waste per day into renewable natural gas, electricity and soil amendment products.
When you think about how much food waste is generated daily by individuals, restaurants, supermarkets and food processing companies, the number is mind-boggling. Yet the Sacramento Biodigester is an innovative step forward in not only reducing waste, but also creating much-needed renewable energy.
The facility will be expanded this year, resulting in the ability to process 100 tons of food waste daily. What's more? Atlas Disposal Industries is developing the state's first anaerobic digestion-based Renewable Natural Gas Fueling Station at the same site. Completion is scheduled for spring 2013, and, once open, the station will use natural gas produced by CleanWorld's system to power Atlas Disposal's clean-fuel trucks, along with clean-fuel vehicles from other nearby jurisdictions and agencies.
Once the Sacramento Biodigester's expansion is complete, it will replace 1 million gallons of diesel with natural gas and produce 2 million kWh of electricity, all from something that would normally be thrown away without a second thought. Pretty amazing, isn't it?
The biodigester offers other benefits, too. As a result of a proprietary system developed from anaerobic digestion technology that originated from the University of California-Davis, the biodigester will produce organic fertilizers and soil amendment products, which will be distributed to area farms. After all, doesn't it make sense to use food waste to grow more food?
Kudos to CleanWorld and Atlas Disposal Industries for finding an innovative and efficient way to deal with an ongoing problem. We hope to see similar biodigesters and natural gas fueling stations being built around the country. Food waste isn't in short supply — and we could all benefit from more widespread and plentiful resources of renewable energy.
Image via Energy Manager Today