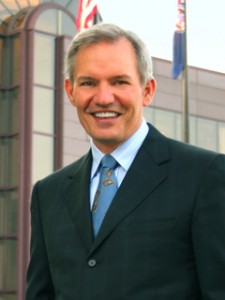 Leadership and service are important to all of us at Burns & McDonnell, which is why we were thrilled to learn our own chairman, president and CEO, Greg Graves, is the recipient of this year's Centurions Leadership Award.
The annual award recognizes "distinguished leaders with a spirit of learning, service and leadership," according to the Greater Kansas City Chamber of Commerce. Through his commitment to the company, as well as the greater Kansas City community, Greg typifies this description and, as a result, has accumulated an impressive and inspiring list of accomplishments.
To better understand the impact that Greg has had on our company and the community, take a look at some of the information we included in Greg's nomination application:
"Centurions lead by example, and among the Kansas City community's most ardent advocates is Greg Graves — an attentive educator, consummate contributor and progressive professional whose own work, ethics and values naturally draw others to both follow and succeed. Through it all, Greg is building success — at work, for others and in his community — by doing what he's become particularly well-known for: leading."
We're excited that Greg has received such a meaningful accolade in recognition of years of tireless service that has benefitted both our company and organizations throughout Kansas City. Since his promotion to CEO in 2004, Burns & McDonnell's annual revenues have grown from $420 million to more than $2 billion and the number of employee-owners has climbed from 1,500 to 4,000.
Additionally, Greg and his wife, Deanna, have chaired fundraisers for the American Heart Association, March of Dimes, Starlight Theatre, the KU Cancer Center, Hope House, the Tocqueville Society of United Way, and Children's Mercy Hospital and Clinics. Whew — we're tired just recounting the list!
Greg joins an impressive group of past honorees including Adele Hall, Hon. Emanuel Cleaver and Thomas M. Bloch. He received the Centurions Leadership Award during a ceremony held April 9, at which time the organization also honored Tyrone Flowers, founder and president of Higher M-Pact, a community-based organization offering services and experience to area youth, with the Bernard Powell Award.
All of us at Burns & McDonnell offer heartfelt congratulations to our fearless leader. Thanks for all that you do, Greg! You're an example and inspiration to all who know you!