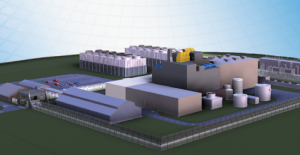 Big ideas often come in small packages — and that's the case with the Westinghouse Small Modular Reactor, a small-scale nuclear reactor that serves as an alternative source for providing affordable, secure sources of emissions-free generation to a variety of global markets.
The SMR builds on the concepts introduced in the company's AP1000 reactor design. The greater than 225 MWe integral pressurized water reactor includes all primary components inside the reactor vessel, a design that reduces the number of required components while still achieving the highest level of safety.
Now that the SMR is ready to be built, Westinghouse has teamed with Burns & McDonnell to help develop and license the reactors. Additionally, we'll help Westinghouse with base plant design, the design certification document and engineering services related to the reactor's construction.
Not only do the SMRs provide a safe, efficient source of emissions-free generation — they're also expected to generate a significant economic impact, too.
"Westinghouse estimates that the building of a single Westinghouse SMR will provide an estimated economic impact of nearly $3 billion in greater than 15 states and will create or sustain more than 15,000 direct and indirect jobs," according to Westinghouse. "As this technology is exported to the world, the number of U.S. jobs would continue to increase."
Additionally, the partnership between the two companies is expected to help propel the U.S. into a leading position within an industry that's becoming increasingly important as companies and stakeholders pursue alternatives to carbon-based fuel sources.
"We believe this partnership will put U.S.-manufactured small modular reactor technology into a leadership position in our country and around the world," said Ray Kowalik, president of Burns & McDonnell's energy division. "There is no question that nuclear power has to be a bigger player if we are serious about reducing our reliance on carbon-based fuel sources. SMRs are a great alternative to large nuclear reactors due to their more predictable costs and the speed at which they can be constructed. We have decades of experience designing the most advanced power facilities in the world and we are eager to put that experience to work with the Westinghouse team."
We're excited about where electricity generation is headed. Keeping pace with change can be challenging, but it's exhilarating, too, and we're thankful to play a role in the industry's evolution. Stay tuned and we'll be sure to keep you updated as SMR construction begins.
Image via Westinghouse