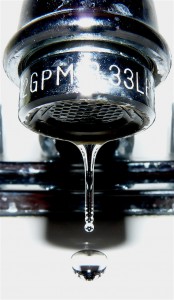 Just as our veins keep blood and nutrients flowing through our bodies, the country's water infrastructure is the circulatory system that keeps our nation alive. The downside? Our water infrastructure is approaching a state of crisis as a result of becoming outdated, overused and underserviced.
To help raise awareness of the plight facing the country's water infrastructure, the U.S. Chamber of Commerce has teamed up with the National Association of Water Companies to launch the Water Is Your Business campaign that "seeks to engage businesses, water infrastructure stakeholders and community leaders on the value of sustainable water provision, the benefits of investing in water infrastructure for the whole community and potential solutions in delivering sustainable water solutions."
One of the campaign tools is an interactive infographic, which gives readers an opportunity to "travel" through the issues facing our water infrastructure. At 30 times the length of the national highway system, which currently clocks in at 46,876 miles long, the country's water infrastructure won't be easy to fix, but it's something that must be done to rescue a system that largely dates back to the early 20th century.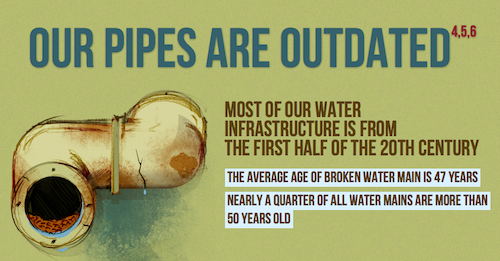 What's more, these outdated pipes are being overused. Look at California, for example. As the population continues to grow, the existing infrastructure can't handle the increased demand and investment isn't keeping pace with the growth.
Fixing and/or replacing water infrastructure is certainly not cheap. Yet the costs of a broken system quickly add up, too. Daily, 650 breaks lead to 7 billion gallons of water lost, which results in $2.6 billion in lost water — every day. Considering water shortages in the U.S. and around the globe, that figure is staggering.
So what can you do? Knowledge is power, for starters, so be sure to check out the full infographic and do more to educate yourself about water infrastructure issues. And, if you'd like to get involved, you can also opt to follow the Water Is Your Business campaign on Twitter and Facebook.
Image: cursedthing via Compfight cc