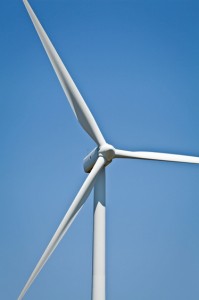 Wind power is, without question, one of the foundations of success when it comes to the renewable energy market. But solutions for success in wind energy aren't cut and dried, nor is any solution guaranteed. We're excited about joining thousands of our wind energy colleagues at the WINDPOWER Expo May 5-8 in Chicago, as we look toward the future of the wind industry and collaboratively explore solutions.
Let's back up a minute. The U.S. wind industry had a record-breaking year in 2012. It grew by 28 percent and became the No. 1 source of new energy capacity for the first time. This, combined with the extension of the Production Tax Credit, which provides a federal tax incentive for wind energy projects started or completed in 2013, has the industry poised to continue the momentum in 2013.
The three-day conference and exhibition is packed with educational and networking opportunities focused on providing solutions for success in the ever-changing wind industry. The conference committee has done a great job assembling a lineup of highly qualified industry experts who will speak on topics ranging from project financial considerations to emerging technologies to scientific research supporting wind power and much more.
One of the coolest things about this year's event is that it's powered 100 percent by wind power, meaning everything from event prep to the power at the conference center and even social events are powered exclusively by wind. How impressive is that?
This conference is one of our favorite opportunities to not only learn from industry leaders but also to connect with the best and brightest wind professionals in the country. We have several people attending the conference who will be available to answer questions about the services we provide for the wind industry. Among them are Justin Bailey and Aaron Anderson, who we asked to share what they're most looking forward to about WINDPOWER 2013. Here's what they said.
"For me, WINDPOWER is a unique opportunity to meet face-to-face, collaborate and learn from and with the major players and thought leaders in the wind industry. The sessions are tremendously informative, and it's great to be able to spend time with both our clients and our peers sharing our thoughts and success stories and learning from those of others. But the real opportunities lie in networking — whether making new connections or strengthening old ones. It's one of my favorite conferences every year." – Justin Bailey
"The annual WINDPOWER show is the best networking opportunity of the year for those of us focused on the wind energy industry. With up to 20,000 people in attendance, it's a great opportunity share the results of our own experiences and research with both our clients and our peers, as well as to learn more about what's on the horizon for the wind industry from the myriad of experts in attendance." – Aaron Anderson
If WINDPOWER 2013 is on your agenda next week, we'd love to hear from you. Tell us what you're most looking forward to in the comments section. And be sure to stop by booth #5120 in the exhibition hall and say hi!