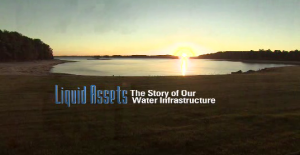 It's no secret that our water infrastructure is in trouble. And if you're a young professional in Kansas City who's interested in learning more, make plans to attend an upcoming screening of the water infrastructure documentary Liquid Assets.
The 90-minute film tells the story of our essential infrastructure systems — water, wastewater and stormwater — some of which have been in the ground for more than a century.
Although these systems address critical public health functions and are essential for growth and economic development, the aging infrastructure hasn't been maintained. Updates and repairs won't be easy, from a logistical or financial standpoint. In fact, some estimates suggest that this will be the single largest public works endeavor in our nation's history. The documentary explores all facets of the water infrastructure system, including history, engineering, and political and economic challenges, all of which are designed to spark discussion about public water and wastewater issues.
Watch the trailer for a closer look:
Interested in hearing more about what's ahead for the country's water infrastructure system? Join us from 11:30 a.m. to 1 p.m. on May 10 in the Burns & McDonnell auditorium at our Kansas City headquarters (9400 Ward Parkway). The screening is sponsored by MO AWWA, MWEA, KS AWWA and KWEA young professionals, which means this event will be an ideal networking opportunity, too.
Secure your spot by RSVPing to Lucas Gillen by May 6. Seasoned professionals are welcome, too, so be sure and register, especially if you work with water infrastructure. We have no doubt that Liquid Assets is going to be an eye-opening documentary, and we're looking forward to seeing it.
If you attend the event, we'd love for you to stop back by the blog and let us know what you thought of the film. In the meantime, we'll see you on May 10!