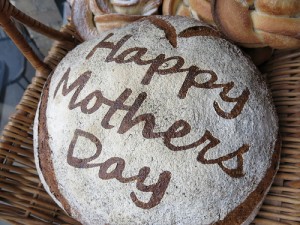 Mother's Day is quickly approaching, and if you're still on the hunt for that perfect gift, we have you covered! We took an informal poll around the office asking for gift ideas for moms and loved the responses we got. We think you will, too. Here are some of the things that topped wish lists of moms around our office.
Plan a mother's day out. Take her to local winery or make an appointment at a nearby spa to pamper her. What mom wouldn't love a fun wine tasting or a great massage?
Designer purse. Not many moms will splurge on themselves, so consider treating her to that designer purse you know she's been dreaming of. And if you're not sure what kind she'd like, ask one of her best girlfriends. She'll point you in the right direction.
Cooking/art class. Book a cooking or art class that you can attend together. This is a special opportunity for you to only have a great time hanging out together, but it'll be extra fun to master a new skill together.
Concert tickets. Pick one of her favorite artists and treat her to a night on the town. The summer concert season is right around the corner, so if you do a little digging, you'll likely find someone she loves that's coming to town that you can take her to see. If music isn't her thing, consider the ballet or a night at the theater. Both are sure to please.
Custom Gifts. Sometimes the thing that moms love best is something you create yourself. You can make a custom work of art for mom or consider a personalized smartphone case, which she's sure to love. The moms at Cool Mom Picks developed a great gift guide that includes custom trinket trays, Mother's Day cards, jewelry and the like, so if you're at a loss for ideas, check them out — they're fantastic.
Free Time. Many of the moms we heard from as we did our survey just want a little extra time to spend with their loved ones. Help free up some of the time she spends on chores around the house. Surprise her with the iRobot Roomba to take care of the vacuuming, or consider hiring a maid service to come in once a month and help out. Even an uninterrupted hour so she can relax in a bubble bath can go a long way.
Fitness Trackers. It's not always easy for moms to find time to work out, but fitness trackers like the Jawbone Up or FitBit One can help Mom stay on track by monitoring her fitness goals and activity levels for the day.
Vacation. Whether she dreams of an all-inclusive vacation to a tropical island (sans kids) or a Disney Cruise with the whole family, a vacation is a sure-fire way to make mom happy.
Jewelry. Tried and true, jewelry is a safe bet if you can't decide on something else. We especially love this necklace for the caffeine and science-loving moms.
Keep it simple. Most moms just want to spend time with you. Take her out to lunch or make her favorite lunch at home.
Grandkids. We couldn't help but laugh to see this on top of one mother's wish list. But it's true. What mom doesn't beg her grown kids for a grandchild?
Most importantly, if you don't have a lot of money to spend, don't worry. You don't have to spend a lot of money to make a big impression on mom. Handwritten notes of appreciation, coupon books for help with chores or breakfast in bed are sometimes the nicest gifts of all.
Finding the perfect Mother's Day gift can be tough, so if you have any ideas to share with those last-minute shoppers, share them in the comments. We'd love to hear from you!
Image credit: torbakhopper via Compfight cc