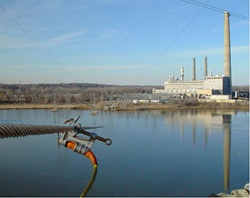 Choosing the right conductor can make a critical difference in a transmission project. Yet with several products on the market, it's not always easy to know which conductor will give you the best outcome. If you're stumped by your options, make plans to join us for the next webinar in our Advanced Technology Series, High Capacity Conductors.
The hour-long webinar will be at 2 p.m. ET on May 30 and will explore the world of high capacity conductors, which offer substantial performance advantages over standard steel and aluminum conductors. Although high capacity conductors increase the capacity of existing transmission lines, it's not always easy to tell if those advantages will translate into real value for your particular project.
During the webinar, we'll answer your questions and provide the information you need to be confident when selecting a high capacity conductor. We'll hear from our featured guests, 3M, who will discuss the 3M Aluminum Conductor Composite Reinforced (3M ACCR). They'll outline how ACCR works, when to use it to help resolve your project's challenges, how to design with ACCR and choose the best option, and what to know about the reliable performance and durability of the conductor as demonstrated in laboratory and field testing and case studies.
If you work with conductors, this free webinar is a must-attend. Register online now and secure your spot. And while you're at it, be sure to check out the rest of our Advanced Technology Series line-up. Upcoming webinars will feature CRUX Subsurface on micropile foundations and steel pile caps, EHV cable systems and automated aerial patrol makers.
The webinars are available on-demand, so if you're not able to attend an event or would prefer to revisit a past webinar, check out the Advanced Technology Series page on our website. And if you have any questions about High Capacity Conductors or any of the other webinars, feel free to contact our event coordinator, Kim Mulkey.
We hope you'll join us on May 30!
Image via 3M