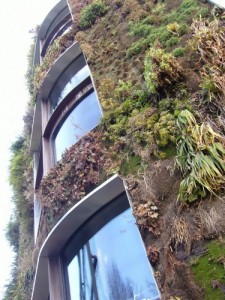 Researchers in Spain are busy developing a new biological concrete that might just change how you see this essential yet ordinary building material. The new concrete has been developed by The Structural Technology Group in Barcelona to create 'living' buildings and introduce enhanced sustainability into architecture.
The concrete, which can be used in new developments as well as renovations, supports the growth of pigmented organisms on buildings. Not only does this help introduce plants to a building's façade, it also helps reduce carbon dioxide (CO2) levels, creating more environmentally friendly structures.
A Closer Look At Biological Concrete
Incorporating plants onto buildings isn't necessarily a new idea — just look at features like green roofs and vertical gardens. But the biological concrete functions as part of the building and, thanks to low pH levels, has become hospitable to plants. In ordinary concrete, pH levels are typically too high for plant growth. The lower pH levels in biological concrete create conditions that promote colonization, so researchers can encourage an array of biological organisms, like microalgae, lichens, fungi and mosses to grow.
The concrete is made up of three layers: a waterproofing layer, a biological layer and a discontinuous coating layer that's placed on top of the structural layer. The top layer has a reverse waterproofing ability that allows rainwater to enter and blocks it from escaping while, at the same time, redirecting the water to the organisms to encourage growth. The biological layer has the ability to capture and store the water while supporting the development of the organisms. The waterproof layer protects the structural integrity of the concrete by preventing water damage.
Benefits of Biological Concrete
As more companies become invested in sustainability, biological concrete has the potential to revolutionize the construction industry. Take a look at the benefits offered by this innovative material:
Aesthetic Appeal
Forget the gray concrete that's become prevalent in a variety of infrastructure projects. With biological concrete, building facades can be designed with different colors and finishes, creating a structure that's as eye-catching as it is environmentally efficient.
Temperature Regulation
The biological coating has the potential to regulate thermal conductivity by capturing solar radiation. Temperatures inside are regulated by the concrete's heat absorption, which makes biological concrete an ideal building material for a variety of climates.
Environmental Effects
Not only does biological concrete make buildings themselves more sustainable; the material also helps reduce overall levels of CO2 in the atmosphere. Just think what the effect could be if biological concrete becomes widespread across the globe.
Biological concrete is still in the experimental phase, but there's already been commercial interest in the material — and given its myriad benefits, we're not surprised. As the work progresses, you might just find biological concrete headed to a city near you.
What's your take on the material? Do you see biological concrete as the next step in creating more sustainable structures?
Image via ArchDaily