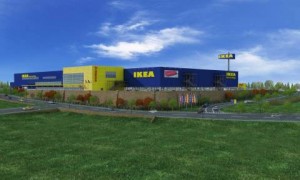 At IKEA, drawing from our Swedish heritage and respect of nature, we believe it is important to be a good business while doing good business. We work diligently to minimize our impact on the environment. This commitment to sustainability is visible on a global level and also guides the construction and upkeep of individual stores, as evidenced by the initial activity surrounding the future of our Kansas City location.
Demolition recently began on a 60,000-square-foot building in Merriam, Kan., to make way for the new store. Throughout the process, IKEA is working with Heartland Habitat for Humanity and other local organizations to recycle and salvage as much of the existing building's equipment, materials and parts as possible.
And as construction begins, we will evaluate potential on-site power generation to complement our U.S. goal of a renewable energy presence at nearly 90% of its U.S. locations.
Our other sustainable efforts in the U.S. include recycling waste material; incorporating environmental measures into the actual buildings with energy-efficient HVAC and lighting systems, recycled construction materials, skylights in warehouse areas; and water-conserving restrooms. We also have made a commitment to eliminate plastic bags from our check-out process, instead introducing reusable bags .
Walk the aisles in an IKEA store and you likely will not find incandescent light bulbs, part of our goal to phase them out and, by 2016, sell and use only LED bulbs. IKEA has also installed electric vehicle charging stations at nine stores in the western U.S.
Globally, we evaluate locations regularly for conservation opportunities, integrate innovative materials into product design, work to maintain sustainable resources, and flat-pack goods for efficient distribution.
Interested in hearing more about the IKEA approach and commitment to sustainability? Make plans to attend Burns & McDonnell's upcoming Sustainability Summit on June 7. I will offer a more in-depth look at our sustainability initiatives during "A Sustainable Approach to Energy Conservation and Generation." I hope to see you there!

Joseph Roth is the public affairs manager for IKEA U.S. He serves as the primary spokesperson regarding IKEA U.S. expansion plans and key sustainable initiatives such as renewable energy and property-related matters.