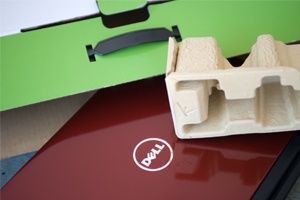 At the core of Dell's culture is the belief that technology should enable human potential. Powering the Possible is our commitment to put technology and expertise to work, where it can do the most good for people and the planet. That's the driving force behind our sustainability initiatives.
We have our fair share of sustainability success stories at Dell. For example, our 3Cs packaging initiative has reduced packaging volume by 10 percent, increased the amount of recycled packaging content by 40 percent, and increased the percentage of curbside recyclability to 75 percent since 2008. In the process of surpassing each of our sustainability goals, we also managed to save more than $18 million in packaging costs and 20 million pounds of material.
With results like that, the business value is clear. But that's not always the case. One of the biggest challenges we face is balancing stakeholder demands with economic realities. We learned early on that to implement sustainability successfully, we have to act through partnerships and collaborations. We work consistently with industry groups and regulatory agencies to create shared sets of standards and uniform conduct across the industry, which makes it easier to drive wider and more accessible adoption of sustainable practices.
But above all else, clear communication at all levels is key. At Dell, we define sustainability through aspirational narratives, because as humans — and as organizations — we're good about meeting objectives that we want to meet. By better communicating our story, we can help all stakeholders understand not only why, but more importantly, how to get it done.
Implementing sustainability programs can be challenging. It's hard. The payoffs are often long-term. Making a business case often requires creativity. Part of my role at Dell is working with our customers and customer-facing teams to help them relate what we're doing with sustainability to better business outcomes both for the customer and for Dell.
I hope you're planning to join me in Kansas City this Friday, June 7 for the Burns & McDonnell Sustainability Summit, where I'll talk more about how to achieve sustainability success.
Image via dell.com

As director of sustainability operations at Dell, Bruno Sarda oversees sustainability governance, information strategy, measurement, and reporting, as well as supporting advocacy, policy, and objective setting across internal and external stakeholder engagement. Sarda is also a consultant for the Rob and Melani Walton Sustainability Solutions Initiatives where he advises a professional master's program in sustainability practices. He is an adjunct faculty member at ASU's School of Sustainability.