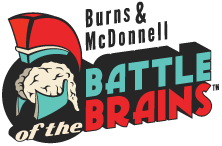 We're always looking for ways to inspire kids to think big — especially when it comes to STEM (science, technology, engineering and math) initiatives. And that's one of the many reasons we're excited to team up with Science City once again for the Battle of the Brains competition, giving area schools a chance to design a new exhibit at Science City AND win part of a $150,000-plus grant for STEM education.
The U.S. Department of Commerce estimates that STEM jobs will grow by 17 percent by 2018, yet interest in STEM-related fields in the U.S. is declining. "We believe STEM education is fundamental to maintaining our country's tradition of ingenuity and inspiration," said Melissa Lavin-Hickey, director of the Burns & McDonnell Foundation. "The continuation of the Battle of the Brains program is part of our ongoing commitment to local STEM education and supporting a thriving educational environment at Science City."
The inaugural Battle of the Brains competition in 2011 was more successful that we could have imagined, with more than 560 entries from 128 schools in 35 school districts from around the Kansas City metro. The result? THE SCIENCE OF ENERGY exhibit, which opened in March 2013 and was inspired by last year's winners at Olathe North High School. We expect this year to be even more exciting, with even more entries and even bigger ideas.
How Does It Work?
School groups have from now until September to register. Once registered, each team has until the end of October to develop their concept and submit a proposal that will be judged by a panel of professionals. Each category will be whittled down to 10 entries and from there, the public helps decide the winners. One team will win the grand prize and will get to see their ideas come to life at Science City, working with architects, engineers and builders from Burns & McDonnell to make it happen.
All elementary and secondary schools in the Kansas City metro area are eligible to participate.
If you're looking for something to inspire your students to think big and keep them busy this summer, send them down to Science City to check out THE SCIENCE OF ENERGY. It's proof that with a little hard work and a lot of teamwork, they can turn their visions into reality.
All you have to do now is register — the competition kicks off in the fall. Be sure to visit the Battle of the Brains website, and find us on Facebook and Twitter to stay up-to-date with competition news and approaching deadlines.
So, students and teachers: Are you up to the challenge to think big and create the next great exhibit at Science City? We can't wait to see what you come up with!