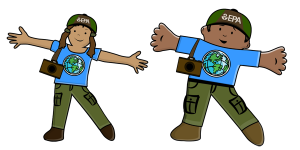 We're always looking for ways to get kids interested in STEM (science, technology, engineering and math) and the environment. After all, we need these brilliant engineers and environmentalists of the future to keep our world sustainable and efficient for generations to come. (And so we can enjoy retirement. Ahem.) And that's why we love the Environmental Protection Agency's fun initiative for kids: Flat Stanley and Stella Explore the Environment. Even in this age of apps, YouTube and virtual reality, there's no better way to get into science than by physically getting into it — and that's what the EPA's Flat Stanley and Stella are all about.
Flat Stanley has been around for years, traveling the world in the name of adventure and school projects galore. Now he's got a sidekick, Stella, and a mission to get kids excited about exploring and caring for their environment in a hands-on way. The EPA's Flat Stanley and Stella blog offers age-appropriate reading lessons by grade on the environment, starring the dimensionally challenged duo to delight kids as they learn. But what's even better than reading Flat Stanley and Stella's adventures? Living them with your very own Flat S&S, of course!
That's why the lessons also have a hands-on activity at the end, encouraging children to print out their own Flat Stanley and Stella from the website and take pictures of them exploring the environment. Kids are also encouraged to share their pictures with friends and with all of Flat Stanley's fans at the official Flat Stanley website. Sharing via social media networks (with mom and dad's help and supervision, of course) is also a great way to spread the news about Flat Stanley and Stella and about what kiddos are learning about their world.
The Flat Stanley and Stella blog will debut a new adventure story for this dynamic duo at the beginning of each month. Make sure to bookmark their site and check in monthly so your kids don't miss out on a great outdoor learning, exploring and sharing opportunity!
Are you going to embark on any of Flat Stanley and Stella's adventures with your children? We'd love to hear (and see!) what places you've visited together!