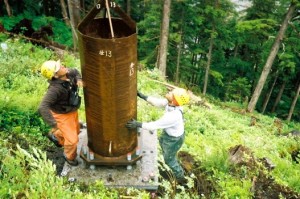 As high-voltage transmission investments continue to increase, these transmission lines are more likely to be built on rugged or protected terrain. As a result, micropile foundations have emerged as a more viable alternative to traditional foundation designs that don't allow for standard access routes.
Learn more about micropile foundations and their applications during the next webinar in our Advanced Technology series. "Micropiles: A Foundation Alternative for Challenging Conditions" kicks off at 2 p.m. ET on July 17. Crux Subsurface will share the development and application of this innovative foundation alternative made of lightweight, high-capacity elements that are readily adaptable to site-specific ground conditions and tower loads. Crux Subsurface representatives will also discuss the contribution that micropiles have made to foundation design optimization in the industry.
Additionally, attendees will hear more about Crux Subsurface's next steps for furthering design optimization through a multidisciplinary engineering focus and construction methods that allow for foundation selection based on individual site conditions.
If you work with high-voltage transmission projects, this free webinar is a must-attend. Register online now and secure your spot. While you're there, take a look at the rest of this year's Advanced Technology lineup. The series features progressive transmission line technologies that support the safe, reliable, efficient and compliant operation of HV and EHV transmission lines. We'll feature SMART Power Flow Controller for Smart Grid Applications on Dec. 5, so be sure to save the date.
The webinars are available on-demand, so if you're not able to attend an event or would like to revisit a past webinar, check out the Advanced Technology Series page on our website. And if you have any questions about Micropile Foundations or any of the other webinars, feel free to contact our event coordinator, Kim Mulkey.
See you soon!
Image via Crux Subsurface