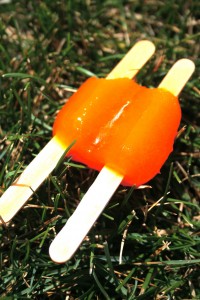 Getting kids excited about engineering isn't as hard as it sounds. The trick is to make it fun and interesting and show them that engineering really does touch everything — including lunch! Our friends at the PBS Kids show Design Squad Nation are experts at getting creative and using things that motivate kids to learn. During a recent segment, "Build a Better Lunchbox," several kids were put to the test by using simple, readily available items to engineer some insulation for their homemade lunchboxes.
This short, fast-paced and fun video explains how air keeps heat out and cold in and shows kids some easy tools they can use to make that happen. In just a few minutes, your future engineers can turn their regular lunch box, or even a cardboard box, into an insulated cooler. How cool is that? (Pun very, very intended.)
Making sure the Popsicle™ isn't a puddle by the time you get to the park? That's motivation! We love Design Squad Nation because it helps kids understand how engineering technology is used in their everyday lives. And what's even better? The show also gives kids an understanding of what engineers do — and plants seeds in young minds that will grow into ideas of how they could change the world as engineers in the future.
Watching the engineering professionals (who, by the way, are excellent career role models) and getting to be one of lucky ones to appear on the show aren't the only advantages. Kids can get hands-on with engineering projects at home by visiting Design Squad Nation's website and clicking on the "Build" tab at the top. There they can view step-by-step instructions and learn how to build their own versions of a variety of engineering products and even upload designs for their own finished feats. They can also play fun engineering games and join the Design Squad to earn points toward virtual stickers in the sticker store.
Do you have school-age kids at home? We encourage you to watch Design Squad Nation with them and work on an engineering project together. After all, a love for learning starts at home, and there's no one better to learn with than mom and dad.
What other tips do you have to help get kids interested in engineering?
Image: {Charlotte.Morrall} via Compfight cc