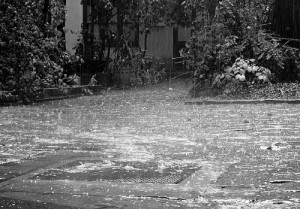 It's not often that stormwater management techniques grab the spotlight, but an opportunity from the Water Environment Federation and StormTV is out to change that. If your organization or community has enviable stormwater management skills, consider submitting a video of those techniques to be featured on StormTV — and possibly during the upcoming Water Environment Federation Technical Exhibition and Conference.
So far, 2013 has been stormy in many parts of the country, bringing not just storm-related vocabulary like derecho into the American lexicon, but also large amounts of excess water to various parts of the country. These sorts of weather scenarios make effective stormwater management critical, especially as part of the larger water delivery and conservancy cycle. Lack of good stormwater administration can drastically compound a storm's damage in warmer months or create flooding circumstances when snow melts at winter's end. Another reason to manage stormwater? Water from storms or melting snow can't be absorbed back into the hard surfaces we've built in our modern world. This interferes with the natural water cycle and gives the stormwater runoff the opportunity to pick up pollutants from solid surfaces that can then make their way into our lakes, streams and rivers.
The solution? Effective stormwater management — and that's exactly what WEF wants to recognize. The organization is on the lookout for short videos that address one of the following topics:
Green infrastructure
Source and nonstructural controls
Stormwater controls (best management practices)
Public communication and outreach
Industrial stormwater management solutions
Research studies
If you know of something that fits the bill, consider submitting a video of your program or project. Once you upload your video to YouTube, send a link of your video to stormwater@wef.org, along with a signed copy of the permission to use form. Videos are due by Aug. 2, and winners will be announced in September.
Up for grabs? Fame, glory and the chance to have your video featured in the Stormwater Pavilion at WEFTEC. Plus, the top four winners will receive complimentary admission to the WEF's upcoming Stormwater Congress in October.
If you decide to enter, good luck! And be sure to stop back by and post a link to your video so we can admire your stormwater management prowess.