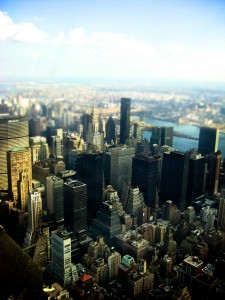 A city's architecture doesn't just define its aesthetic — it tells a rich story of the past that shaped its region. If you're curious about New York City's history, a recently debuted collection of images compiled from city records is a must-see.
The photo database, released by the city's Department of Records, contains nearly 1 million images of New York and its municipal operations, culled from the Municipal Archives. Together, the images present an invaluable view of the history and development of New York City since the mid-19th century.
This project, which was four years in the making, contains some 870,000 photographs pulled from the full collection of 2.2 million images. The images, primarily taken by unnamed city workers, feature varied facets of municipal oversight while presenting all aspects of city life including stately ports, bridges and buildings.
Among the known contributors to the collection was Eugene de Salignac, the official photographer for the Department of Bridges/Plant & Structures from 1906 to 1934. A Salignac photograph, which can now be viewed online, shows painters lounging on cables on the Brooklyn Bridge in October 1914, 31 years after it opened.
The collection also features more than 800,000 color photographs taken with 35mm cameras of every city building in the mid-1980s to update the municipal records. Unfortunately, at this stage, the digitized gallery does not include the city's prized collection of 720,000 photographs of every city building from 1939 to 1941 due to technological and financial constraints. The database is, however, still growing.
If you, like us, are fascinated by architecture and a city's municipal functions, this database is definitely worth a leisurely browse. Plus, if you're so inclined, you can purchase prints in various sizes.
Now, if you'll excuse us, we have more exploring to do. Once you take a look at the photo collection, we'd love for you to stop back by and let us know your favorite image.