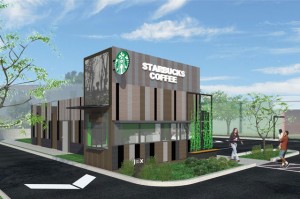 There's nothing better than enjoying a steaming cup of coffee inside the comfort of a … shipping container? The newest Starbucks in the Kansas City metro area will be built from reused shipping containers, one of only three stores in the nation with that sustainable claim to fame.
Building with recycled shipping containers isn't new, but the construction materials haven't yet become widespread. Starbucks' decision to incorporate shipping containers into its stores might just change that by introducing a new take on "Reduce, Reuse, Recycle" to the coffee-loving masses.
During construction, a large crane lifts and lowers the storage containers into place before finishing touches, including a drive-through, are completed. Building new stores from shipping containers is part of Starbucks' larger sustainability goals, one of which is to ensure new, company-owned stores are LEED-certified. According to Starbucks, 116 stores in 12 countries have achieved LEED certification.
Other environmental priorities at the top of Starbucks' sustainability list? Waste reduction through recyclable cups and minimal packaging, energy and water conservation and the purchase of renewable energy credits.
As for the inspiration to use shipping containers as part of the coffee shop's structure? As attorney Curt Petersen said in an interview with KCTV-5, company execs didn't have to look far. Starbucks' Seattle headquarters is surrounded by the containers, which are used to ship coffee and tea around the world. And once the containers hit their 20-year lifespan, they typically wind up in scrap yards. Now, however, they can be put to a new, more sustainable use that's as environmentally friendly as it is architecturally distinct.
The next time you're in Overland Park, keep your eyes peeled for this inventive structure. We're interested to see if Starbucks continues to incorporate recycled shipping containers into new stores — and if other retailers use them, too.
In the meantime, what are your thoughts on the new Starbucks? We'd love to hear your input in the comments!
Image via KCTV-5