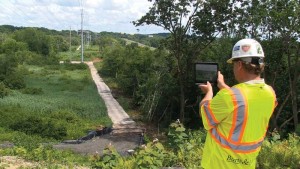 When you're dealing with large-scale engineering projects, better, more efficient project management is always a primary focus. Better project management helps keep the work on time, on budget and in compliance with relevant regulations. It also keeps teams happy and clients satisfied, so everybody wins.
Mobile solutions are also increasingly important, especially if project teams are spread across large distances or on multiple locations. The ability to gather and use real-time data is a crucial component of successful project management, because it helps both project teams and clients stay up-to-date and coordinate response efforts — and adjust accordingly.
Complex, large-scale projects and the ability to gather, use and manage real-time data to deliver greater efficiencies are why our team developed OneTouchPM, a proprietary program management tool that helps project teams simplify the end user experience while staying coordinated and up-to-date throughout the project cycle.
Project Example #1: Maine Power Reliability Program
Let's take a look at the Maine Power Reliability Program as an example of how OneTouchPM works. The project included 452.4 miles of transmission lines across more than 70 Maine communities, as well as five new substations, four new autotransformers and more than 40 ancillary substation upgrades, all of which will help alleviate congestion and strengthen the reliability of the power grid throughout the region.
Dealing with that much transmission line, not to mention the large project area, presented an organizational and management challenge! With OneTouchPM, the project team had no problem managing requirements on 78 different permits. They also used the tool to track landowner feedback and other real-time data that was critical to managing the project in a timely and efficient manner, a big reason why mobile tools (and access) are becoming increasingly critical to a successful project outcome.
Project Example #2: AltaLink Transmission Line Project
Mobile tools that encourage and facilitate collaboration are especially helpful in remote areas where no Internet connection or capabilities are available. This was the case for the AltaLink Transmission Line project, which involved a helicopter survey of a potential electric transmission line deep in the northern wilderness of Alberta, Canada. With a two-day lead time, we were asked to provide a field mapping application to identify the team's current location and the proposed transmission line, and be able to collect basic data and photos, while disconnected from any source of Internet communication.
Our Business Technology Solutions team compiled a series of Geographic Information Systems (GIS) maps for the potential flight path. The maps were output to a geographically referenced PDF format and loaded to iPads for use with a PDF mapping field application. The team and the helicopter pilot were able to navigate position, identify concerns, add pinpoint locations to the maps and tie descriptions and photographs to those points. All of this was done in a completely disconnected environment without cellphone or Internet service. Once an Internet connection was re-established, the files were uploaded to a secure site and integrated into the OneTouchPM system so that the project team could access them for design and informational purposes.
Better Communication, Cost Reduction, Increased Efficiency
Not only do project management tools like OneTouchPM help keep clients and other stakeholders updated and involved throughout the project; they also help teams spot opportunities for cost reduction. This results in significant time, financial or other savings and makes the project more efficient all the way around.
And don't overlook the internal benefit to great project management tools — our project managers and field teams like OneTouchPM as much as our clients do. Bob Wolfe, regional controls manager for Burns & McDonnell, discussed this in a recent article for Engineering News-Record and said, "Our project control solutions enable all parties to work off the same data; (we) have saved thousands of hours of work."
Reducing costs throughout a project is never a bad thing — and neither is reducing risk. One of the key benefits of mobile project tools like OneTouchPM is that they offer flexibility, giving project teams the ability to quickly innovate for customers while increasing operational efficiency and reducing risk. And in our line of work, that's what we call a win-win situation.
Chris O'Grady is the Regional Manager of Business & Technology Services in our New England office. He leads a cross-discipline team of project control specialists that bring technological solutions to our transmission and distribution projects, many of which include OneTouchPM and other project tools. If you have questions about OneTouchPM or are interested in learning more about how it can help your next project, feel free to email Chris.