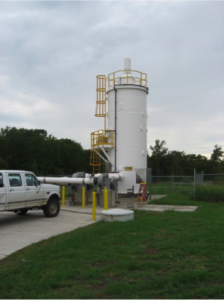 Water seems like a simple substance — but don't let it fool you. Working with water is exciting partially because of the challenges involved. Take an industrial client, for example, who needed an updated membrane system to improve degrading water quality and decreasing water supply.
The project addressed three primary objectives: providing a permanent water treatment facility, resolving finished water quality issues and addressing concerns about aquifer dewatering.
The solution? An integrated membrane system combining microfiltration, nanofiltration and reverse osmosis that works efficiently with multiple water supply sources ("fresh" wells, chloride remediation wells, municipal wastewater effluent and refinery wastewater effluent).
Not only does the integrated membrane system solve the industrial client's water-specific needs, the carefully designed system fulfilled a number of full-scale design considerations, including:
Limit the blending of specific water sources
Provide finished water meeting two specific goals
Implementation of backwash reuse microfiltration
Piping interconnects that increase flexibility
Interested in learning more about the specifics of the integrated membrane system and other project particulars? If you're at the Kansas Water Environment Association and Kansas Section of the American Water Works Association joint conference, make a beeline for "Design of an Integrated Membrane System: Microfiltration, Nanofiltration and Reverse Osmosis," presented by our own Jacob White at 3:30 p.m. today (Aug. 27) in the Oak room (206).
Not only will you get an inside look at the project's design process — you'll also have a chance to learn more about the system's piloting results, jar testing and other project highlights. If you're considering an integrated membrane system for your own project, this is a can't-miss presentation.
Feel free to stop back by the blog and let us know what you think of Jacob's discussion. And be sure to say hi when you see us at the conference!