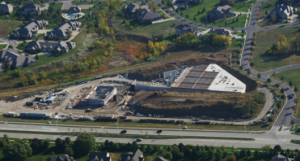 When it comes to new water infrastructure projects, location is a big factor—especially if that location is one that's considered atypical, like a high-end residential area. That's exactly what a project team faced when building a new WaterOne pump station and reservoir in a residential section of Leawood, Kansas, a site that presented a number of logistical, construction and other challenges.
More than a decade ago, WaterOne officials realized a growing need for a new water pump station and reservoir. A number of catalysts, including lower pressure during peak demand times, projected area growth and improved service for fire protection, prompted an initial exploration phase, a critical part of which included site selection.
Ten prospective sites were evaluated over a two-year period. The winning location offered a number of benefits, including best hydraulic performance to serve project demands, higher elevation (that results in lower energy consumption), good site drainage and available space for a future second reservoir, among others. The only problem? The site's location in the heart of a high-end residential area.
Once the site was officially acquired (after a lengthy process), preliminary design began in 2008, a process that wasn't complete until 2010. Project designers had to accommodate myriad challenges, including landscaping, fencing, lighting and building permit requirements. The final design went through an extensive approval process that included Leawood Planning, Codes Administration, Public Works and the City Council, with additional reviews provided by Johnson County Wastewater, the Kansas Department of Health & Environment and Kansas City Power & Light.
More than 100,000 construction labor hours later, the pump station was completed. The construction process included rock blasting for two reservoirs: the current facility and a planned future reservoir that will help accommodate the area's ongoing growth. Interested in seeing the blast? Check out this video:
Interested in the rest of the story? If you're at the Kansas Water Environment Association and the Kansas Section of the American Water Works Association joint conference, be sure to check out "You're Building That Where?" presented by our own Mike O'Connell and WaterOne's Hanley Barker. They'll be discussing the project at 1:30 p.m. today (Aug. 27) in Osage (207), so be sure to stop by to learn more about the project's unique challenges and how the project team overcame these obstacles to successfully deliver the new facility. We hope to see you there!