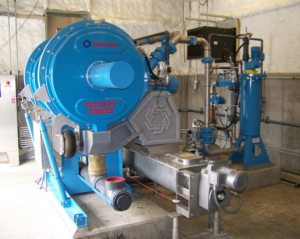 When the South Adams County Water & Sanitation District (SACWSD) needed to add a third solids handling option, a slow-speed dewatering option proved ideal to keep the effects of return loadings to a minimum. More specifically, a pilot test in September 2010 ultimately proved successful at identifying rotary press dewatering as a feasible solution for the facility.
SACWSD is an MBBR (moving bed biofilm reactor) biological treatment facility that uses anaerobic digestion for solids stabilization. The solids handling processes at the facility include grit removal, gravity thickening, primary/secondary anaerobic digestion and three solids handling options — liquid hauling, drying beds and, most recently, rotary press dewatering.
SACWSD needed a third solids handling option because liquid hauling is costly to the district and the drying beds can't keep up with the facility's solids loading. Using rotary press dewatering, solids are pumped from the secondary anaerobic digester, mixed with polymer, flocculated in the flocculation device and then fed into a rectangular channel. The flocculated solids are rotated between two parallel revolving stainless steel, chrome-plated screens. The filtrate passes through the screens as the solids advance within the channel. The solids continue to dewater as they travel around the channel, eventually forming a cake near the outlet side of the press. The frictional force of the slow-moving screens, coupled with the controlled outlet restriction, results in the extrusion of a very dry cake.
If you're interested in learning more about the Fournier Rotary Press pilot testing, as well as what the results revealed, be sure to join our own Brian Knadle as he discusses "Got Sludge? Rotary Press Dewatering at a Glance" at the Rocky Mountain Section of the American Water Works Association and the Rocky Mountain Water Environment Association joint conference.
Brian will present at 4 p.m. today (Sept. 9) in Torreys Peak II. If you're considering rotary press dewatering for your own water project, be sure to join him for a closer look at this solution.
And if you're at the conference, be sure to say hi! We have a number of Burns & McDonnell employees presenting and are excited for three days of learning and networking. Hope to see you there!