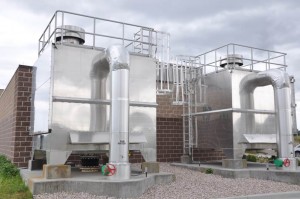 Like many communities in the Colorado Front Range, the town of Castle Rock faces the ongoing challenge of finding adequate resources to provide safe drinking water for its rapidly growing population. The community's water supply has historically come from non-renewable sources, but its long-term water strategy includes tapping into more renewable sources to meet its future water demands. And thanks to the Plum Creek Water Purification Facility, which went into production in May, Castle Rock has the ability to increase its renewable water use to 35 percent.
The facility treats water from existing deep water wells and several newly created shallow alluvial wells along Plum Creek, using treatment technologies such as chemical pretreatment, flocculation/sedimentation, greensand filtration, membrane filtration and post-filter chemical treatment to make the water safe for consumption.
The initial capacity of the Plum Creek Water Purification Facility is 4 million gallons per day, but in order to meet the town's anticipated future capacity requirements and meet its current budget, the facility is easily expandable to 12 million gallons per day. Raw water for expansion will come from a yet-undetermined combination of alluvial wells and surface water.
The Plum Creek facility was Castle Rock's first surface water treatment plant. With that came many challenges for the design team.
Want to learn more? Join Burns & McDonnell's Anthony Beeson at the Joint Annual Conference of the Rocky Mountain Section of the American Water Works Association (RMSAWWA) and the Rocky Mountain Water Environment Association (RMWEA). He'll present "Designing for Future (Unknown) Water Quality" at 3 p.m. today (Sept. 9), where he'll discuss the specific challenges facing the town of Castle Rock and how those challenges played into the overall design of the Plum Creek Water Purification Facility, as well as expansion plans.
We're excited to be at RMSAWWA/RMWEA as it continues today and are looking forward to many great sessions with our water industry colleagues. If you're at the show, be sure to check out Anthony's session and let us know what you think!