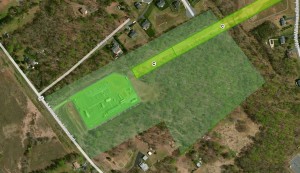 We live in a world where instant access to information is an expectation. This is true in our personal lives and our professional lives. Consider two things: How many times a day do you use the Internet to find information you need? If you leave the home or the office and forget your mobile device, do you go back and get it?
We'll hypothesize that your answers were likely "many" and "yes." We know, in general, that the web, data and devices are, for most of us, pretty critical. But that's not always the case. For many companies in the public sector, valuable information still exists solely in hard-copy format. But, with the help of geographic information systems — or GIS — these companies are finding ways to integrate important historical data with modern technology.
Let's start with a little background. GIS is a system of hardware and software used to capture, manage and analyze geographic data. It provides project teams — especially those working with land acquisition and right-of-way information — with an easier way to view, interpret and visualize data, enabling quicker, more efficient and more effective access to information.
Because large volumes of plans and engineering drawings remain the data source of record for rights-of-way information, converting this data into digital format is no easy task. But as Dominion Virginia Power recognized, it was an essential piece of successfully doing business in today's fast-paced, tech-driven world.
With the help of our GIS team, Dominion Virginia Power began converting its legacy hard-copy data, some of it dating back nearly 80 years, into digital format through a custom GIS web mapping application built on ESRI's ArcGIS platform.
The project team used a georeferencing process to orient the 8,500-plus plan documents to their correct spatial location and incorporated information about rights-of-way, easements and permits on the newly digitized drawings. As rights-of-way expand over the years (which is quite common), the digital data can quickly and accurately display those expansions — one of the many benefits of using GIS to modernize this data.
Among the other benefits, users have the ability to catalog and track all types of historical data, including right-of-way agreements, permits, leases, design files, construction notes/comments and vegetative control data in one central location. The robust system enables storing and spatially viewing important, historical data that spans across the entire project life cycle and across the historical ownership of the transmission/distribution property.
When finished this fall, Dominion Virginia Power's complete historical data will be housed in a fully searchable GIS database allowing quick access to relevant, useful institutional knowledge.
Want to learn more? Watch for the September/October issue of Right of Way Magazine for the first in a two-part series that will detail how Dominion Virginia Power and Burns & McDonnell forged a partnership to build this modern system for accessing historic records.