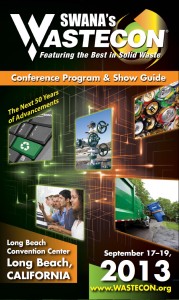 If you're interested in the latest solid waste management techniques, the Solid Waste Association of North America's WASTECON 2013 is probably at the top of your must-attend list. We're headed to Long Beach next week for three days packed with education, exhibits and networking, all designed to help anyone who works in or with the solid waste industry stay up-to-date with the latest innovations, best practices and techniques.
This year's show is focused on the industry's next 50 years, meaning attendees will get a forward-thinking perspective on all aspects of solid waste management that gives them the insight to deliver innovative solutions to their companies and clients.
After all, solid waste management is an issue that remains critical. Consider one piece of the solid waste puzzle: municipal solid waste, better known as trash. According to EPA data, Americans generated about 250 million tons of trash in 2011. That statistic speaks to the ongoing importance of source reduction, recycling and composting that will help reduce the overall amount of waste requiring disposal. That topic —and much more — will be discussed at WASTECON.
One of the things we enjoy most about WASTECON is the array of opportunities available during the show. Technical tours offer an inside look at landfills and composting facilities, giving attendees a real-time case study about new and existing management processes.
We're looking forward to the mega session keynotes, which will cover topics including global solid waste management, waste conversion technology, recycling innovations, safety and more. Add technical sessions, exhibits and social events, and you've got an ideal mix of activities that help attendees expand their knowledge of the issues and tools that affect the solid waste industry.
If you haven't yet planned your WASTECON agenda, take a look at the conference program and show guide. And when you're there, be sure to stop by and say hi. We'll be at booth 712. Look forward to seeing you!