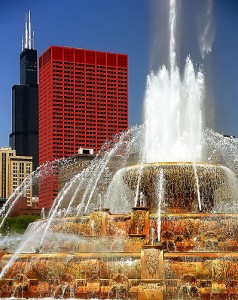 Twenty-seven workshops. One hundred and forty technical exhibitions. More than 295,000 square feet of exhibition space. Combine those impressive numbers and you've got the Water Environment Federation Technical Exhibition and Conference (WEFTEC), the largest annual water quality event in the world.
Next week, water quality professionals will head to the Windy City for five days of education, resources and information designed to give them a firsthand look at the latest practices, technologies, solutions and regulations in the water quality field.
One of the things we're most excited about is the debut of WEFTEC's inaugural Stormwater Congress. The Stormwater Congress comes on the heels of WEF's 2012 Stormwater Symposium and "was developed to maximize networking opportunities for stormwater professionals and facilitate participation in high quality programming dedicated to stormwater-related issues."
Some industries diminish over time (or even become obsolete), yet stormwater presents a constant need for smart management and other related solutions. After all, stormwater is directly tied to the weather, which is constantly changing — and without effective stormwater administration, communities run the risk of compounded, even catastrophic storm damage or dire flooding circumstances, depending on the region and conditions.
Called a conference within a conference, the Stormwater Congress will feature 17 technical sessions and more than 70 speakers, all focused on cutting-edge stormwater issues like changing regulations and policies, climate change impacts, stream restoration, flow-based total maximum daily loads (TDMLs), stormwater financing strategies and more. Plus, Stormwater Congress attendees will have easy access to WEFTEC 2013 for a comprehensive educational experience. If you're interested in attending the Stormwater Congress and haven't yet registered, grab your spot now.
Not attending the Stormwater Congress? Don't miss the return of WEFTEC's Stormwater Pavilion, 10,000 square feet of dedicated exhibit space that includes field practitioner and company exhibits, as well as presentations, discussions and networking events.
For all these reasons and more, we're really looking forward to WEFTEC. If you're headed there, too, be sure to look for us and say hi. Let us know what's on your must-attend conference agenda. With so many compelling sessions and events, planning a schedule and picking among them will be a challenge.
Photo Credit: David Paul Ohmer via Compfight cc