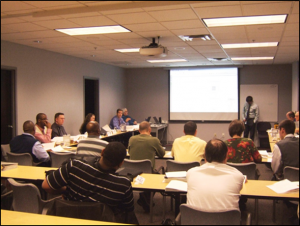 While decentralized wastewater treatment can be a cost-effective, flexible and scalable technology under the right scenario, it remains widely under-utilized, especially in environments where it could be most effective. Not only can distributed wastewater treatment work particularly well in distributed utility environments, it's very effective in smaller communities in which centralized treatment and collection isn't feasible.
If you're headed to the Water Environment Federation Technical Exhibition and Conference (WEFTEC) and are interested in learning more about decentralized wastewater treatment and how it can be successfully used, make plans to join a roundtable discussion, "Does Size Really Matter? The Case for Scalable Decentralized Wastewater Treatment," part of the Small Communities track on Sunday, October 6.
In the course of the discussion, you'll learn how decentralized wastewater treatment technology fits within the watershed agenda, supported by broad examples. After that, panelists will offer a closer look at the economics of these distributed/decentralized systems, including costs, financing, policy, and profitability considerations. In addition, supporting case studies will be introduced that demonstrate successful implementation in many contexts.
The panel will conclude with perspectives from Burns & McDonnell Senior Project Manager, Jeff Keller, as well as Ted Heniflin, Hampton Roads Sanitation District, about how these technologies are being profitably incorporated and developed within utility management and engineering organizations. The roundtable discussion will be structured in four parts, giving attendees ample time to ask questions and interact with panelists after each section.
If you've been considering a decentralized wastewater treatment solution but are skeptical of its efficacy and profitability, this is the workshop for you. Add it to the top of your WEFTEC 2013 agenda and we'll see you there!