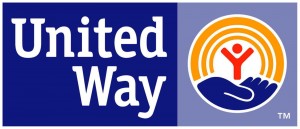 Here at Burns & McDonnell, we like to say that we do work every day that improves lives. We design, build and maintain structures and systems that support the functionality of our society. In that way, we are a vital part of our community, but that's not the only way we contribute. We strive not only to be excellent as we work for our clients, but also as we serve our neighbors. And a huge part of that? Our involvement in the fundraising campaign for the United Way of Greater Kansas City.
Last week, our CEO Greg Graves, co-chairman of this year's United Way campaign in Kansas City, challenged a crowd of business leaders to help achieve the campaign's goal of "more participation, more leadership and more giving." This may sound simple, but since last year's campaign raised $37.3 million (an increase of $1 million from the previous year), more giving is no small achievement. But as Graves and the United Way staff and co-chairs communicated at the luncheon, the need in Kansas City is not small.
The crowd at the campaign luncheon heard first-hand from someone who lives with it: 19-year-old college freshman Emily Sukolics. She told the attentive audience how she left a difficult home situation and crashed wherever she could for her last two years of high school. She dreamed of going to college but was sure it wouldn't be possible. Then, she found out about the United Way's Decade of Difference program. Aimed at putting at-risk young adults on a path to financial stability, the program gave $8 for every $1 that Sukolics saved. Those funds, along with her own savings and some federal grants, loans and scholarships, are making her dream of higher education possible.
Sukolics' story — and the stories of thousands like her who are helped by the United Way — are what inspired our CEO to challenge Burns &McDonnell to reach 100 percent participation in the United Way campaign this year. In recent years the number of Burns & McDonnell participants who gave more than $10,000 has increased from 10 to over 50. With a track record like that, we know 100 percent is a goal we can achieve.
The United Way of Greater Kansas City's fundraising campaign is in full swing and continues into November. It's time to get giving and support the health, education and income of those who live in poverty in our area. We help build these communities, and they need our support to stay strong. Our own CEO related his personal experience of being young and in need to the luncheon attendees, saying, "I don't hesitate to remind myself where I've come from and where some people still may be."
We've no doubt there's a future CEO out there in greater Kansas City that needs our support. We're up to the challenge and ready to show our community we care.
Want to know how you can help the United Way of Greater Kansas City help others? Head over to their website and be inspired.
Image via United Way.