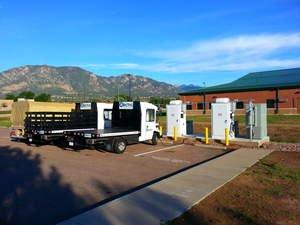 Electric vehicles (EVs) may represent the future of transportation, and factors like utility demand and adequate charging infrastructure will play a key role in the more widespread adoption of EVs. Burns & McDonnell recently teamed up with subcontractor Coritech Services to develop a new bidirectional charging system for electric vehicles at Fort Carson, Colo., that we hope will set a new standard for the industry.
This first-of-its-kind system will not only enable the charging of vehicles but can also push power back to the base power distribution network — including the newly commissioned backup power microgrid — when needed to meet installation demand or improve overall power quality.
The project team successfully commissioned five bidirectional chargers and their control systems as part of the Smart Power Infrastructure Demonstration for Energy Reliability and Security (SPIDERS) microgrid project at Fort Carson. These units are capable of providing up to 300 kilowatts of power to plug-in electric vehicles and can also discharge a like amount of stored energy from the vehicle batteries to the grid or microgrid.
Here's a closer look at the benefits of the new system:
This fast-charging system for EVs means the vehicles fully charge in 1 hour, compared to 8 or more using traditional chargers.
Bidirectional chargers can return energy to the grid.
Integration into the SPIDERS backup power microgrid increases the reliability and efficiency of backup power systems to critical facilities at Fort Carson.
Vehicle to grid charging (V2G) includes power factor correction, which addresses a growing concern at locations like Fort Carson that are experiencing growth in on-site solar power generation that's resulting in utility rate penalties.
The system can absorb reactive power from the grid 24 hours a day, even when vehicles are not attached to the chargers. This improves the power factor of the loads at the base, making power transmission more efficient and less costly.
Once the charging system was in place, performance tests were completed using electric trucks from Smith Electric Vehicles and Boulder Electric Vehicle. In fact, thanks to Boulder Electric Vehicle, we had an unexpected chance to expand our testing. The company recently claimed to have deployed the world's first V2G electric truck, so the new station should be fully utilized in combination with these vehicles.
The Fort Carson SPIDERS project, which is managed by the U.S. Army Corps of Engineers, is nearing completion — and the commissioning of the vehicle charging stations signifies a project milestone. At Burns & McDonnell, we think it's a solution that will allow local utilities to improve energy efficiency and lower costs while providing additional backup for critical systems — and those are the sort of effective, forward-thinking solutions that we strive to deliver to our clients.