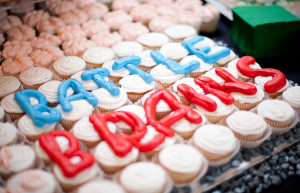 A shot at a $50,000 grand prize and designing the next exhibit at Kansas City's Science City was enough motivation for more than 3,500 students to think big. That's how many students teamed up to submit entries for the second Battle of the Brains competition. Now it's up to a panel of judges to decide which teams go on to the next round.
Battle of the Brains is an educational competition, now in its second iteration, sponsored by Burns & McDonnell. It challenges Kansas City area students to think big about STEM — science, technology, engineering and math —concepts. The grand prize winners get to work with a team of engineers, architects and construction professionals at Burns & McDonnell to turn their idea into an exhibit at Science City.
More than 500 entries came from across the Kansas City metro area with one common goal: to take home the grand prize and see their exhibit come to life at Science City. The number of students participating in the Battle of the Brains competition increased by 30 percent from its inaugural year in 2011; the number of schools participating increased by 34 percent. We couldn't be happier to see so many teachers and kids excited about STEM initiatives and are so proud of all their commitment and hard work.
The top entries will be judged by a Science City/Burns & McDonnell panel of experts in science, engineering and academia. The panel will evaluate and rank the entries according to the criteria, and, based on the ranking, select the top 20 finalists — 10 from each division (elementary and secondary).
The judges' ranking of the top 20 will account for 70 percent of the final score. The remaining 30 percent will be determined by a public vote that runs from November 7-14. Everyone in Kansas City and across the country who has an eligible email address can vote once daily for their favorite entry.
We're passionate about STEM education and the innovation that comes from a solid understanding of STEM principles. These young people are our future and our employee-owners are honored to help to fuel their passion for learning. We are thrilled that the Battle of the Brains has helped shine new light on STEM topics and inspired area students to look at STEM topics in new ways. The best part of all is seeing the ideas and hard work of the student teams come to life — whether in the form of a proposal or an actual exhibit.
Our judges are hard at work over the next couple of days to select the finalists. Be sure to stay tuned to the blog for a list of finalists on Nov. 6. And get ready to vote for your favorite!
This post first appeared on the Burns & McDonnell Careers Blog