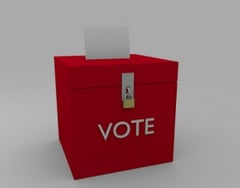 Twenty groups of students from the Kansas City metro area are one step closer to seeing their big idea become a reality in the Burns & McDonnell Battle of the Brains competition, an initiative supporting STEM education. Now they'll go head-to-head in a public vote where it's up to YOU to help decide the winners in the elementary and secondary divisions. One lucky group of students will get the opportunity to work with Burns & McDonnell's architects, engineers and construction managers to make their concept a reality in Science City!
The Top 20 finalists represent the best design ideas of more than 500 entries submitted for the science, technology, engineering and math (STEM) competition.
Elementary Finalists
Brain-E, Briarcliff Elementary
Down & Dirty - The Science of Urban Farms, Bonner Springs, Delaware Ridge & Edwardsville elementaries
Every Last Drop, Cordill Mason Elementary
GeneTech, Leawood Elementary School
GloZone, Cedar Creek Elementary
Healthville, Hazel Grove Elementary
Listen!, Valley Park Elementary
One World One Well, Hyman Brand Hebrew Academy
Recycle City, Crestview Elementary
Tour de Forces, Longview Farm Elementary
Secondary Finalists
3-D Printing in Modern Medicine, Rockhurst High School
A Journey Inside the Human Body, Blue Springs High School
Aquiforever?, Winnetonka High School
Brain Surge, Drexel R-IV
H2Oh!, Bode Middle School
Head to Toe, Olathe East Senior High
Maglev Magic, Belton High School Freshman Center
Robots in Medicine, Pleasant Hill Middle School
Tapped Out, Olathe North High School
Wright Into the Future, Summit Technology Academy
The public voting period runs from November 7 through November 14 at 5 p.m. Anyone with a valid email address can vote once per day for their favorite finalist. The judges' scores account for 70 percent of the final rankings, and the public votes make up the remaining 30 percent. The winners will be announced during an awards ceremony on November 20.
To explore the finalists and cast your vote, go to http://battleofthebrainskc.com/vote/.
Simply click on each exhibit name to read a summary, see the video and check out the full proposal. You can vote either from the overview grid pages or the specific entry page. When you click vote, you'll be asked to log in — just enter your email address. It will take you back to the voting page where you can cast your vote.
Remember to vote often! Your vote can help shape future of Kansas City's Science City and celebrate the brilliance and tenacity of some of the best young minds in the metro area — and their amazing teachers.
Congratulations to all the finalists, and best of luck!