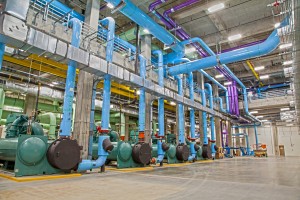 The new Dallas County health care campus is a $1.27 billion project that's the largest of its kind in the country. Its predecessor, Parkland Memorial Hospital, has served the Dallas county area for almost 60 years. With the region's population expected to double by 2025, it was time for change.
Scheduled to open in 2015, the 2.5 million-square-foot facility has been designed to serve the needs of the community for a long time to come. Key components of the project include a focus on sustainability, resiliency and long-term operational flexibility.
Central utility plants (CUPs) cost-effectively consolidate energy conversion equipment into one location to provide efficiency, reliability, maintainability and redundancy. The $74 million Parkland CUP is an integral part of the broader project. Burns & McDonnell's Jeff Easton and Scott Williams, both with our Dallas-Fort Worth-based OnSite Energy & Power Group, part of our Global Facilities and Energy divisions, played a big role in its design, development and construction.
The CUP for the facility will provide thermal, electric, water and emergency utilities to the hospital and has been operational for the past year, supporting the construction of the health care campus. The CUP was designed not only to last for the projected life span of the hospital campus itself (approximately 80 to 100 years), but also to be expandable, adaptable and easy to replace as dictated by changes in available technology and the needs of the campus.
In an already naturally arid region — one that's experienced drought the past few years — the facility incorporates design components that maximize heat pump chiller use and project water savings of some 15 million gallons annually. As you can see from the image below (click to enlarge), in the most basic terms, heat that would normally be discharged and wasted is harnessed to reheat surgical suites. Heat has been "moved" to a heating loop, which not only reduces the electric chiller load, it's projected to generate natural gas savings in the neighborhood of $635,000/year.

The project, which was honored with a gold medal in the 2014 ACEC Texas Engineering Excellence Awards, was the featured in the fourth quarter 2013 edition of District Energy Magazine. The entire article is linked at the bottom of this post, and we hope you'll check it out.
Even better than the industry recognition for this project is the fact that our team delivered this project six days ahead of schedule and some $4 million under its $78 million dollar budget. Because that's what we do — deliver the best product, at the best possible price, on or ahead of schedule. We're pretty proud of this team and its accomplishments.
Other Resources:
Feature: Dallas's Mega Health Care Project: New Hospital Served by State-of-the-Art Central Plant
Central Utility Plants and District Energy: Dedicated to Optimization