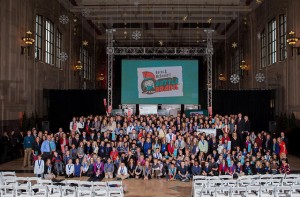 Wednesday marked the culmination of the second Battle of the Brains competition with an awards ceremony at Union Station. Leawood Elementary School and Olathe North High School were named the grand prize winners, each earning a $50,000 grant for STEM education. But in an interesting twist, instead of announcing the one team that would see its exhibit come to life, both schools learned that their exhibits would be coming soon to Science City!
The Battle of the Brains is an educational competition sponsored by the Burns & McDonnell Foundation. It is designed to get students in the Kansas City area excited about STEM education — science, technology, engineering and math. More than 500 teams submitted proposals in hopes that their design would become the next exhibit at Science City.
"Burns & McDonnell has a vested interest in promoting the development of STEM education in our country's youth," said Burns & McDonnell Chairman & CEO Greg Graves. "These young people are the engineers, architects and scientists of tomorrow. This competition is an investment in their future — and ours."
Leawood Elementary School's exhibit was inspired by the building blocks of life. Genetech will help visitors discover the science and wonder of DNA, while Olathe North's exhibit, Tapped Out, will explore the impending water crisis and how conservation can help steer us in the right direction. Olathe North is a repeat winner: The Science of Energy exhibit, which opened earlier this year, was inspired by Olathe North's "Unplugged" proposal in the first Battle of the Brains competition.
Want to learn more about more about the exhibits that will be coming soon? Check out the teams' submission videos below.
In total, the Burns & McDonnell Foundation donated $155,000 to the Top 20 finalists' schools to be used in support of STEM education. In addition to the two $50,000 grand-prize winners, four runners-up received $5,000 and 14 honorable mentions received $2,500.
Runners-Up ($5,000 awards)
Aquiforever – Winnetonka High School
Every Last Drop – Cordill Mason Elementary
Tour de Forces – Longview Farm Elementary
Wright into the Future – Summit Technology Academy
Honorable Mentions ($2,500 awards)
Brain-E – Briarcliff Elementary
Glozone – Cedar Creek Elementary
Listen! – Valley Park Elementary
Healthville – Hazel Grove Elementary
One World One Well – Hyman Brand Hebrew Academy
Recycle City – Crestview Elementary
Down & Dirty – Bonner Springs, Edwardsville and Delaware Ridge Elementary Schools
Head to Toe – Olathe East Senior High School
H2Oh! – Bode Middle School
A Journey into the Human Body – Blue Springs High School
Maglev Magic – Belton High School Freshman Center
Brain Surge – Drexel High School
Robots in Medicine – Pleasant Hill Middle School
3D Printing in Modern Medicine – Rockhurst High School
And now the fun begins: A team of architects, engineers and construction managers from Burns & McDonnell get to work with the talented students from Leawood Elementary and Olathe North High school to bring these exhibits to life, and we couldn't be more excited!
Congratulations and thank you to everyone who participated in the Battle of the Brains!