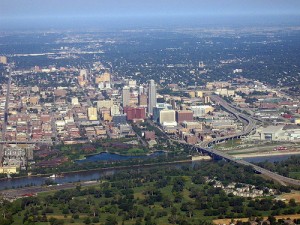 Municipalities across the U.S. are increasingly focused on reducing combined sewer overflows (CSOs), improving the water quality and reducing the combined sewer discharges via green infrastructure.
The City of Omaha's Gilmore Avenue Sewer Separation Project is a portion of the City of Omaha's Combined Sewer Overflow (CSO) program and a project Burns & McDonnell is working on with the City of Omaha Public Works Department.
Our team performed a watershed evaluation, per CSO program guidelines, to help determine which areas of the project could incorporate green infrastructure. This was especially important to the Gilmore Avenue project because it currently discharges into an existing sewer system — a system with limited capacity that is not scheduled for replacement or upgrade.
The design team closely reviewed green infrastructure options to see how effectively they could reduce discharges into the existing sewer system. Green infrastructure strategies have been successful for many municipalities, and we were particularly interested in how it might impact the challenges of this project.
Why Green Infrastructure?
Green infrastructure is particularly effective at helping maintain healthy waters. The infrastructure uses vegetation and soil, in the form of bioretention, rain gardens, and constructed wetlands, to manage rainwater instead of more traditional systems that use only pipes. Using Green Infrastructure more closely replicates the pre-development conditions when rain water would infiltrate instead of running off. Green infrastructure treats stormwater naturally through the soil and plant uptake. It also offers flood mitigation and habitat restoration within an urban watershed. It's a win all the way around.
Gilmore Avenue Project: Challenges and Solutions
The Gilmore Avenue system receives large amounts of runoff, bringing with it things like dirt, salt, heavy metals and petroleum products. For this particular sewer separation project, green infrastructure use incorporated dry detention with a constructed wetland and bioretention. Green infrastructure on Gilmore Avenue will help reduce peak runoff and improve water quality for the community by treating heavy metals, chemicals and salts.
Facilities that incorporate green infrastructure as a part of this project include city-acquired land and a public park. The detention basin provided enough storage during rainfall that the reduction in infrastructure size downstream exceeds the cost of the detention basin. This represents a major tenet of the CSO program and green infrastructure — economic justification. By coordinating with the Parks & Recreation Department, Albright Park will be renovated after the sewer separation project is complete. The park facilities will be altered to meet the current desires of the residents, including new playground equipment, a new basketball court, and new soccer fields. Portions of the park will be used for bioretention, allowing stormwater storage and treatment, and providing educational benefits to park visitors.
Green Infrastructure Benefits Communities
For the City of Omaha and many communities nationwide, the more stormwater discharge can be reduced by green infrastructure and natural solutions, the better. Green infrastructure not only replicates the natural hydrologic cycle; it also improves water quality and reduces the impact on downstream sewer systems.