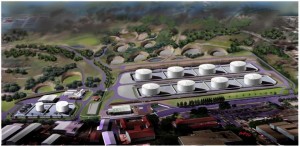 Petroleum, oil and lubricant (POL) systems provide arterial transport for fuel products to get them where they're needed in the supply chain. As with anything, POL systems run the risk of piping failures, which can result in product loss, environmental damage, destruction of property and even personal safety concerns for the people operating the systems. But there are ways to assess these systems and identify risks in an efficient, effective manner.
Before we get into solutions, let's back up a bit. The Department of Defense and other government agencies rely on the Defense Logistics Agency-Energy (DLA-Energy) to provide them with efficient, effective and comprehensive energy solutions. That's the mission of the DLA-Energy Piping Integrity Centrally Managed Program (CMP). Their goal is to reduce risk of POL system piping failures with unacceptable environmental and mission readiness consequences. This is accomplished by completing both planned facility piping integrity assessments as well as follow-up integrity testing, including recommendations for facility operation and Sustainment, Restoration and Modernization (SRM) improvements. And that's where POL systems specialists come into play.
POL piping specialists evaluate systems and provide assessment of code and criteria compliance tailored to state codes and industry guidelines such as the American Petroleum Institute (API) 570. The effort can take several phases, with each phase increasing the baseline knowledge and understanding of pipeline integrity and at-risk features. The evaluation results in an Integrity Management Plan for POL piping, documents the overall assessment, provides a specific targeted series of continued integrity management activities and identifies deficiencies necessary for correction.
Burns & McDonnell's POL piping specialists are conducting piping integrity assessments in various states under the CMP. So far, we've conducted fuel piping assessments for the Army National Guard in Arizona, Missouri, Oklahoma, Virginia, North Carolina and West Virginia, and for the Air National Guard in Tennessee, Ohio, North Carolina and West Virginia. Upcoming site visits will include Army National Guard locations in Maryland, Kentucky, Virginia, and Arizona, and an Air National Guard site in Nebraska.
Our team is proud to contribute to the mission of keeping these systems running efficiently and effectively and making operator safety the top priority.
Victor Poland is a project manager of federal programs at Burns & McDonnell. He has extensive experience in DoD fueling projects involving the integrity management program for POL systems.