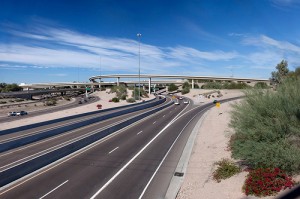 The Panel on 21st Century Freight Transportation, established in April 2013 by the House Transportation and Infrastructure Committee, has released its final report on the state of freight transportation in the United States.
The panel, led by Chairman John Duncan Jr. and Ranking Member Jerrold Nadler, was given six months to evaluate how goods move across the nation — between ports, highways, railroads, air carriers, inland waterways and pipelines — with a goal of reporting how improvements to our freight transportation system could strengthen the U.S. economy. The panel also examined ways to increase the safety, efficiency, performance and condition of the U.S. freight network. It evaluated ways technology aids in the movement of freight as well as financing possibilities for transportation projects.
The panel hosted six public hearings and three roundtable discussions to study these subjects and toured freight facilities in Virginia, New Jersey, New York City, Memphis and Southern California.
The panel's final report determined that Congress should:
Establish a policy for national freight transportation
Define a multimodal freight network
Confirm strong public investment in freight transportation
Give incentives for private investment
Encourage projects that will improve the movement of goods
Allow committed, sustainable funding for freight projects through grants
Identify and advise revenue sources for investment in the freight network
Develop funding alternatives for projects that will proceed Congress' 2014 reauthorization bill
Since the release of the report, the American Society of Civil Engineers (ASCE) has urged Congress to continue to deliberate about additional revenue options for the Highway Trust Fund, which funds much-need repairs for our nation's roads and bridges. The Congressional Budget Office (CBO) anticipates that the Highway Trust Fund will be broke by 2015 and others predict that it won't be able to meet its obligations as early as fall 2014. It's imperative that Congress figure out how to fund programs going forward.
According to the CBO, problems with the Highway Trust Fund include:
Continual lack of revenue for the Highway Trust Fund
Existing lack of infrastructure investment
Weakened U.S. transportation system
Weakened industry and construction employment
Lack of infrastructure efficiency undermines the U.S. economic strength and competitiveness. On ASCE's 2013 Report Card for America's Infrastructure, the nation was given a D+ after examination in 16 categories. It was discovered that the U.S. needs to invest around $3.6 trillion by 2020 to maintain the national infrastructure.
Here are the grades and investment needs for categories linked to freight movement:
Air = D

Estimated investment need of $134 billion

Bridges = C+
Transit = D
Roads = D

For all three, estimated investment need of $1.7 trillion

Rail = C+

Estimated investment need of $100 billion
It's predicted that the continual under-investment in our nation's freight system will cost the economy more than 876,000 jobs and subdue the growth of GDP by $897 billion in 2020.
The fact that these problems with our nation's infrastructure exist isn't news, by any stretch of the imagination. The ASCE has long championed the needs of our infrastructure system. The group's comprehensive 2013 Report Card for America's Infrastructure predicted that by 2020 the funding shortages faced by U.S. infrastructure would face a shortfall of $1.6 trillion.
The work of the ASCE, the voices of engineers involved daily in infrastructure work and reports like the House Freight Panel report are helping bring attention to this matter. Continued investigation of deficiencies within the U.S. freight system is imperative. Ongoing examination of the even larger problem of funding infrastructure improvements will hopefully move us closer to solutions.
You can read the full report here: Improving the Nation's Freight Transportation System
Additional coverage on this topic:
Forbes: House Panel's Report Thrills Transportation Interests — But Will It Have Any Impact?
ASCE: Failure to Act economic report
ASCE: America's Infrastructure Crisis Isn't Overstated
NY Daily News: U.S. Bridges Crumbling, Highway Trust Fund Broke
Photo Credit: squeaks2569 via Compfight cc