Advances in technology, together with economic and policy changes, are expected to challenge and transform the electric utility industry over the coming years. Utilities are focused on these challenges, as are regulators and policy makers.
The future of the utilities industry was the subject of a recent Energy Central webcast presentation titled Disruptive Challenges. The webcast was sponsored by Burns & McDonnell's Transmission & Distribution Group on December 5, 2013, and featured Peter Kind being interviewed by Martin Rosenberg, editor-in-chief of EnergyBiz Magazine as part of its EnergyBiz Leadership Series.
Kind is the executive director of Energy Infrastructure Advocates and the author of "Disruptive Challenges: Financial Implications and Strategic Responses to a Changing Retail Electric Business." This report was the culmination of Kind's research for Edison Electric Institute in January 2013. It covers the far-reaching implications of technology on the utility industry.
Technological innovations aren't often seen as being disruptive but that's just the effect they can have on long-established business models. Consider these examples from the recent past:
Wireless technology on landline phones — Verizon and AT&T lost half of their traditional customers in the past six years while wireless telephony increased by more than two-thirds.
Digital cameras on Kodak Film — Kodak began to struggle financially in the late 1990s as sales of photographic film declined and the company transitioned slowly to digital photography.
Netflix on Blockbuster — The once dominant video rental chain was decimated by the success of Netflix and video streaming services.
In the presentation, Kind puts forward the argument that Smart Grid, solar and microgrid technologies are likely to have the same sort of impact on the electric utility business. Add in the effect of energy efficiency programs, renewable energy targets and economic considerations and, he says, "You have a confluence of factors that may adversely impact the utility industry business model."
He also sets out strategic considerations for utility companies, including:
Capital deployment considerations
Potential new business initiatives
Growth opportunities
An updated utility business model
And what about the next steps for utilities? Kind suggests that they need to assess the disruptive threats, develop effective strategies and implement a timeline to combat challenges and update business models.
The webcast was packed with valuable information, so head over to the Energy Central Webinar and On Demand Archive where a replay of the full version is available to download (registration required).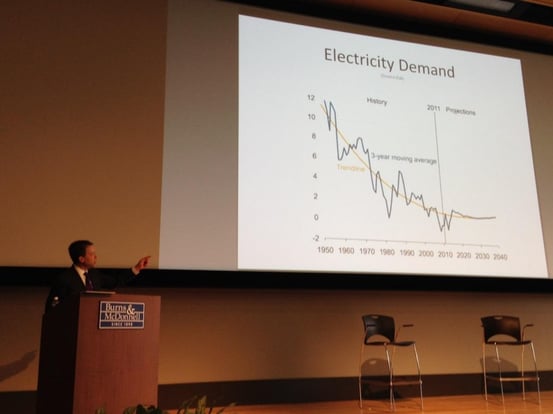 *Peter H. Kind, executive director of Energy Infrastructure Advocates and senior adviser at Macquarie Capital, has more than 30 years of investment banking experience, specializing in utility and power sector corporate finance. His banking experience includes capital markets advisory and transaction execution and strategic advisory services, including merger and acquisition and corporate finance advice. Throughout his career, Kind has been actively involved in outreach to regulators and policymakers, including work as an expert witness in regulatory proceedings and forums, presenting at industry and regulatory conferences on financial issues affecting utilities and power producers, and in direct outreach on regulatory matters.