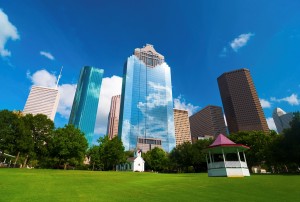 Increasing energy efficiency and sustainability has been a trend in recent years. Recently, the Building Owners and Managers Association (BOMA) International published a report covering the top 10 ways commercial real estate professionals can make energy efficiency and sustainability a priority.
BOMA represents owners and managers of commercial properties. Through advocacy, education, research standards and information, BOMA's mission is to advance the interests of the commercial real estate industry.
About 20% of overall greenhouse gas emissions in the United States are caused in part by the office building industry. BOMA is committed to helping its members and the industry improve energy management and sustainability practices. Here are the 10 ways this can be achieved, according to the report:
1. Take advantage of the Energy Star Portfolio Manager. Use this resource to track energy and water consumption.
2. Complete recurrent energy audits. These audits will allow you to find prospects for cost-effective energy reductions. Audits should also be done at midnight to evaluate lighting and HVAC use while buildings are not being used.
3. Develop energy awareness programs. Create an energy awareness program for building tenants. Let tenants know about the building's energy efficiency goals and how they can help reach them. Also include tips for saving energy.
4. Replace incandescent bulbs with compact fluorescents (CFLs). CFL use is up, and these bulbs use exponentially less energy, have longer lifespans and produce much less heat than incandescents.
5. Focus on restrooms. In building restrooms, mount low-flow flush fixtures and hands-free fixtures in the place of traditional fixtures.
6. Remember electronic waste. Host a building-wide electronic-waste day. This gives tenants a chance to recycle old computers, printers and other electronic devices.
7. Use occupancy and photo sensors. Occupancy sensors keep track of whether tenants are using specific rooms, and photo sensors monitor daylight. Both reduce wasted energy.
8. Don't forget the sun. Use solar shades to block heat.
9. Support eco-friendly transportation. To encourage and support eco-friendly transportation to your building, install bike racks and vehicle charging stations for electric cars.
10. Paint and filtering. When making building improvements, use low-VOC paints and high-efficiency HVAC filters — and change the filters often.
In 2009, the Environmental Protection Agency (EPA) awarded the prestigious Climate Protection Award to BOMA International . This is the EPA's highest honor. In 2013, BOMA International was awarded, for the sixth time, the Energy Star Award for Sustained Excellence. BOMA is the only commercial real estate association to ever be recognized with this award.
By making the changes suggested by BOMA, office buildings everywhere can be more energy efficient. Increasing energy efficiency allows building owners to save money and aid the environment.
BOMA International serves as the primary source of information on industry trends in building management, operating costs, building codes, technological developments and more. For more information on the report or BOMA, visit www.boma.org.