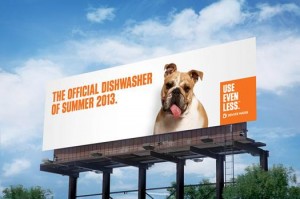 Have you ever seen a toilet tackled by an eagle? What about a conversation between two flowers that have had too much to drink? No, we thought not. But if you live in the Denver area, there's a good chance you've seen Denver Water's campaigns to help people use water more efficiently.
Recognizing back in 2006 that more needed to be done to reduce water usage, the company launched its Use Only What You Need campaign to educate the community about water efficiency. Their playful encouragement has included running toilets putting in appearances on the city's sports fields, displays of dirty and deconstructed cars, sandwich board-wearing conservation ambassadors walking around and the erection of towering barrel shaped sculptures. Since the inception of the campaign the folks at Denver Water claim these innovative and fun messages have engaged the community to such an extent that water consumption has reduced by around 20 percent. That's pretty cool!
In 2013, with a much more serious drought threat to face, the company upped the stakes even more with its Use Even Less Campaign, which featured some tongue-in-cheek new ways to save water. They included these suggestions:
Use your dog as a dish washer
Dry T-shirt contests
Pipette irrigation systems
Musk as the scent of the summer
Green paint for lawn care
Wipes instead of showers
This campaign was a home run by Denver Water, making the topic of water conservation not only top-of-mind, but something Denverites could have fun with in the process. Even better — it worked.
Do yourself a favor a take a minute to watch the official campaign video — it'll be well worth your time — and it'll make you laugh.
Let me know what you think. Is this the type of campaign that more of our utilities should be adopting to get their conservation and sustainability messages across?
Mike Leister is a project manager in Burns & McDonnell's Denver office with more than 32 years of water and wastewater experience. As a licensed professional engineer, he spent 15 years at Denver Water before taking on a consulting role at Burns & McDonnell in 2013. If you want more information, reach out to Mike via email at mleister@burnsmcd.com.
Image via Denver Water