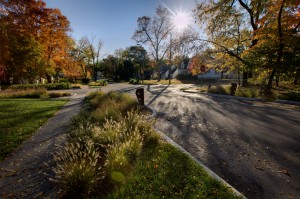 Green infrastructure projects have proven to be an effective and efficient way to regulate combined sewer overflows, while also providing multiple environmental and health benefits that support sustainability. Despite these benefits, municipalities continue to grapple with successfully implementing green infrastructure strategies in new and existing development.
Next week, Andy Shively, engineering officer at the Water Services Department for the City of Kansas City, Missouri, and I will be headed to Tampa for the 2014 Green Infrastructure and Water Management in Growing Metropolitan Areas Conference, where we'll join experts from around the U.S. and the world for a comprehensive discussion on green infrastructure and water management in growing metropolitan areas.
The conference, which runs from Jan. 14-16, will focus on the benefits of green infrastructure and will help attendees identify potential barriers, evaluate opportunities for funding and financing, and develop practical implementation strategies.
On the second day of the conference, Andy and I will co-present "Maximizing Partnerships to Fulfill Infrastructure Investment." The presentation will focus on the partnerships that were formed between city departments, utility companies, engineering firms and local community groups to support the Kansas City Overflow Control Program (OCP), an initiative that has positioned Kansas City, Mo., as a national leader in green infrastructure improvements.
The Kansas City OCP is the nation's first large-scale green infrastructure project addressing combined sewer overflows (CSOs) and is the largest infrastructure investment in Kansas City's history. The city's Water Services Department worked diligently to develop partnerships to not only fulfill the program's commitments, but also its promise to maximize the economic, social and environmental benefits associated with it. During the presentation, we'll share some of the successes from the implementation of green infrastructure improvements, which relied heavily on public support, stakeholder collaboration and extensive public involvement and public outreach campaigns.
If you're heading to the Green Infrastructure Conference, let me know which sessions you plan to attend. And if you happen to make it to our presentation, let me know what you thought. Looking forward to seeing you there!
John Pruss is a senior project manager in Burns & McDonnell's Water Group. He has extensive experience in water and wastewater system studies, evaluations, preliminary and detail design, and construction phase services. He is currently leading the program management effort for the Kansas City Overflow Control Program. If you'd like to learn more, you can send John an email here.