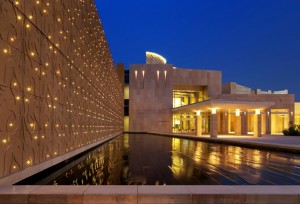 Students at Hamad Bin Khalifa University in Doha are now able to enjoy state-of-the-art housing facilities with the opening of the Qatar Foundation's new student housing complex on campus. The development, with segregated complexes for male and female students, provides secure, energy efficient and sustainable accommodations for up to 1,200 students. It also houses a computer lab, study rooms, food venues and programming space.
Designed by our team at Burns & McDonnell, in collaboration with Treanor Architects and green building consultants Vertegy, the development recently received this year's Cityscape Award for Emerging Markets in the Residential (Built) project category. The Cityscape awards recognize the innovators behind some of the world's most high-profile projects and celebrate excellence in real estate development and architecture.
Saad al-Muhannadi, president of the Qatar Foundation, said, "We are honored to receive this award among such an excellent group of submissions. This is a reflection of the outstanding commitment and teamwork that has gone into making this sustainable housing project a reality. We always strive to effectively integrate green building practices within our developments, and this is a true testament to Qatar's growth and advancement in the field."
The complex was designed with sustainability in mind, with up to 12.5 percent of the power coming from renewable sources. Wind turbines, which can generate power from just 10 kph gusts, have been installed at the main entrance along with solar panels and water-powered fixtures across the site. Additionally, monitoring units in every accommodation unit lets students track their own energy and water consumption and, if appropriate, modify their behavior.
First-year students at the university are offered single rooms, while returning students have a variety of options, ranging from single-occupation studios to shared apartments with full kitchens. Jamil Karam, director of student life at the university, said, "The student housing complex is specifically designed for students to study and learn, engage in campus life and grow as individuals in order to be better and well-informed citizens. We hope to attract more students to live on campus and be part of an environment-aware population that values the preservation of natural resources."
The development has earned a Leadership in Energy and Environmental Design (LEED) Platinum certificate, the highest standard available for sustainable buildings. The complex is currently the only student housing in the world to earn this level of LEED award and consists of the highest concentration of platinum LEED buildings independently registered by the U.S. Green Building Council.
It's been a tremendous honor for our team at Burns & McDonnell to have played a part in this award-winning development, strengthening the university's commitment to sustainability and protection of the environment, one of the pillars of the Qatar National Vision for 2030.
Mike Roark is a project manager and LEED accredited professional at Burns & McDonnell. He manages large commercial, institutional and industrial construction projects around the world. You can connect with Mike on LinkedIn to learn more about this project and his experience.