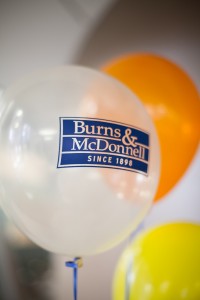 You know what's better than waking up on a Thursday morning and realizing that it's almost the weekend? Waking up on a Thursday morning to news that Burns & McDonnell has once again been named one of FORTUNE magazine's 100 Best Companies to Work For in 2014! And this year we've climbed four spots to number 14!
The annual list, now in its 17th year, recognizes companies that have exceptional workplace cultures. Each year, FORTUNE partners with the Great Place to Work® Institute Inc. to select the 100 Best Companies to Work For in the United States based on the results of an extensive employee survey and a culture audit that evaluates a company's business environment, hiring and onboarding methodologies, communication practices, development and motivation of employees, community involvement, and more.
Key factors for companies making the list include commitments to employee wellness, community outreach, professional and leadership development, and commitments to diversity — all things that are an integral part of our corporate culture and focus.
According to China Gorman, CEO of Great Place to Work, the companies on this list understand the role that people and culture play in their success. A great workplace culture and a high-trust work environment not only help companies land a spot on this list but also boost their broader success.
The highly regarded ranking includes some of the most well-known companies in corporate America. So for this Midwest-based engineering firm to be recognized — for three consecutive years — among the likes of Google, SAS, and Zappos is indeed an honor. Our entire team knows that our recognition on this list is a testament to our outstanding leadership and our dedicated, hard-working employee-owners.
In the words of our CEO Greg Graves, "We're of course proud to be recognized again by FORTUNE but also want to be sure we keep it in perspective by continuing to focus on the qualities that have made Burns & McDonnell a great place to work for many years."
You can check out the complete list of the 2014 FORTUNE 100 Best Companies to Work For here. And a big congratulations to the other companies on the list!