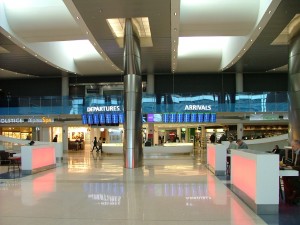 Travelers passing through Terminal F at Philadelphia International Airport are in for an upgraded experience with the opening of the newly renovated and expanded terminal F hub. The original hub, which forms the intersection of Terminal F's three concourses, has doubled in size to 60,000 square feet and now features four times the food, beverage and retail offerings. The food court seating area quadrupled in size to 300 seats.
Opened in November 2013, the new hub is the largest phase of a $127 million project designed to refurbish and expand Terminal F, which handles some 5.3 million passengers per year, 18% of the airport's passenger traffic. When completed in 2016, the program, managed by a team from Burns & McDonnell, will include a new baggage claim facility, additional security screening lanes, a new taxi stand on the arrivals road, and a secure corridor linking Terminal F with the rest of the airport on the secured side. The expansion also adds new utilities to handle the increased heating, cooling and power demands.
Philadelphia Airport CEO Mark Gale said of the project, "When Terminal F opened in 2001, it revolutionized the airport experience for travellers using US Airways Express by providing those customers with a state-of-the-art terminal. Over the years, Terminal F has become busier as US Airways Express operations have increased. In response to that shift in demand, the airport has partnered with US Airways on a major capital program to greatly enhance the traveller experience. We are excited to offer this new facility and upgraded experience to the thousands of passengers who use Terminal F every day and look forward to continuing our work to serve the travelling public."
New dining options include outlets for fast food, treats and snacks and the Local Tavern restaurant, which is run by American celebrity chef Jose Garces. Along with browsing for souvenirs or something to read, the weary traveler can take a shower and freshen up at a new service, at XpreSpa. The hub's mezzanine level has also been expanded and renovated with an updated US Airways Club lounge for customers and new break rooms for US Airways employees.
A major feature of the renovation is a 130-square-meter art glass installation, "You Are Here." The artwork, commissioned by the city of Philadelphia's Office of Arts, Culture and the Creative Economy and the work of artists Ellen Harvey and Jan Baracz, features blue glass pieces and a panoramic satellite view of Philadelphia with an arrow pinpointing the airport's location.
We are delighted to be playing our part in this prestigious project, which is already improving the traveling experience for passengers at Philly Airport's Terminal F. Have you visited the new hub? We would love hear what you think of the new facilities if you have.
If you are interested in aviation issues you might like to download our 2013 Aviation Special Report: The Technology Spectrum — Integrating Technology into Airport Planning, Design, Construction and Program Management
Katherine Goudreau is a vice president in charge of Burns & McDonnell's Washington, D.C., and Philadelphia offices, and has spent the majority of her career working on aviation-related projects. She oversaw the Philadelphia Terminal Expansion project.