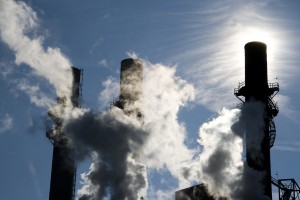 Coal-fired utilities in the United States are operating in a state of uncertainty pending a Supreme Court decision on greenhouse gas regulations, due to be heard next month. The court's decision, on whether stationary sources of emissions should be caught up in regulations designed to reduce emissions from motor vehicles, could have huge ramifications for utilities and industry in the U.S.
The long and complicated legal process that has led to this point began when the U.S. Environmental Protection Agency (EPA) was ordered by the Supreme Court to reconsider an earlier denial of a petition calling for new motor vehicle greenhouse gas emission standards. Their review resulted in standards being introduced for motor vehicles in 2010; however, once greenhouse gases were considered air pollutants, the EPA considered that they now had a duty to regulate them under the Clean Air Act. As a consequence they went a step further, also implementing standards for certain stationary sources of emissions, which would include power and industrial plants.
Both the vehicle emission standards and the standards for stationary sources were challenged by a variety of groups in court; it's these challenges that are embodied in the current case, Utility Air Regulatory Group versus EPA, before the Supreme Court. Although the initial challenge was rejected last year, the court has accepted six further petitions but has limited their review to a single question:
"Whether EPA permissibly determined that its regulation of greenhouse gas emissions from new motor vehicles triggered permitting requirements under the Clean Air Act for stationary sources that emit greenhouse gases."
The significance of the Supreme Court's ruling on the greenhouse gas rules can be fully appreciated by looking at the petitions that the court denied. The Supreme Court did not accept the challenge to EPA's Endangerment Finding that that the current and projected concentrations of greenhouse gases threaten the public health and welfare of current and future generations. Nor did it accept the challenge to EPA's tailpipe rules for motor vehicle emissions. Fundamentally, EPA's core decision that greenhouse gases are pollutants that endanger public health has been accepted by the Supreme Court and is now final.
The court will only consider the question as to whether the EPA has the authority to extend the regulations to stationary sources. This is a decision with massive implications for utilities with coal-fired generation assets, particularly as the EPA also proposes New Source Performance Standards for new and existing coal-fired boilers; the outcome is awaited with great interest by all involved in the power generation industry.
If you would like to find out more about this subject and the detailed issues involved then head over to Power Engineering to read an article co-written by our own Robynn Andracsek and Seth D. Jaffe of Foley Hoag. Be sure to let us know what you think about this vital topic for the future of power generation.