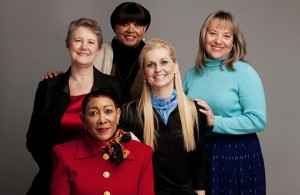 Anthem Media Group's KC Business magazine is in its eighth year of selecting and honoring Kansas City area female business leaders as part of their Influential Women program. Female leaders in the corporate, nonprofit, creative and entrepreneurial realm are honored for their contributions to the community and to their organizations, for their passion and for their accomplishments.
It gave us great pride to see Michelle Word, a principal with Burns & McDonnell and the talented leader of our Supplier Diversity Program, receive recognition as part of the class of 2014 honorees. Michelle has served on our Diversity Advisory Committee since its inception in 2004 and has worked to develop many of our existing supplier diversity policies and practices. Her work over the years has resulted in recognition by other leaders in the business community as well as helped to establish partnerships with a diverse array of organizations, both in Kansas City and across the United States. In addition, her work and the work of the Diversity Advisory Committee has ensured that small businesses are very much part of the mix when it comes to our vendor partnerships.
Michelle is a dynamo and truly passionate about diversity. Her involvement in the community, beyond her career, is a testament to that commitment. She's involved in the Hispanic Chamber of Commerce of Greater Kansas City, the Asian American Chamber of Commerce and the Minority Contractors Association. She's also the board chair of the Missouri Women's Council. Because Burns & McDonnell has offices in cities all over the U.S., Michelle's work doesn't end in Kansas City, so her involvement with minority supplier councils and similar organizations has a broad reach. One of the reasons we receive national recognition as one of Fortune magazine's Best Companies to Work For, as well as similar recognition in local markets, is our commitment to diversity. Michelle and her commitment is part of how we make that happen.
The women selected for this honor are making their mark on Kansas City They lead by example, mentoring and setting the stage for the next generation of female leaders. You can find the full list of the 2014 class here, and we hope that if you don't know these women that you'll make it a point to get to know them. The impact they have on our community is great, and this recognition is well-deserved.
Image via ThisIsKC.com