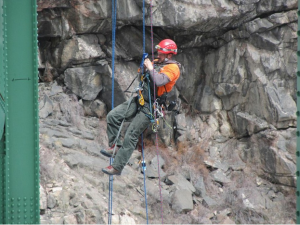 Bridge inspections can create challenges for engineers because parts of the structure are often difficult or costly to reach using traditional methods. Since the mid-1990s though, when an innovative approach was needed after the failure of floodgates on a California dam, climbing and rappelling has been an increasingly useful technique for bridge inspection and repair.
When the floodgates on the dam near Folsom, Calif., unexpectedly failed, the owners needed to gain speedy access to the remaining gates to ensure that they weren't becoming distressed. The problem was that the main structural components were perched on the dam spillway some 250 feet above the base of the dam, hampering the ability of engineers to access the critical areas. The solution was to call in climb-trained engineers from the U.S. Army Corps of Engineers (COE) who, with engineers from the Office of Structure Maintenance and Investigations at the California Department of Transportation (Caltrans), brought their rappelling skills to fix the problem.
While the Caltrans engineers had historically used heavy industrial rope and rigging for bridge inspection, the employment of climbing techniques meant that the job was completed with minimal expense and effort. Since then the use of such "rope access" has proved a valuable tool for investigating engineers or technicians who need to gain access to bridge structures. Several other offices within Caltrans and the California Department of Water Resources have also now adopted rope access techniques for specialized structural inspections.
Caltrans, which subsequently evaluated the use of climbing techniques as an alternate access method for bridge inspection, has taken a lead role in developing the science and safety of the techniques. With the help of a small research grant, Caltrans developed a bridge-climbing training course through a University of California outdoors recreation group. This led to the first comprehensive "Code of Safe Practices," which established training, procedures and equipment requirements for bridge inspections.
The industry now has its own professional body, The Society of Professional Rope Access Technicians (SPRAT), which has established an industry standard certification process with enforceable rules. Safety is paramount; a minimum of two inspectors must climb together, with a team of four being preferred. Inspectors go through extensive rope rescue training similar to mountaineering rescue training. Ryan Nataluk, bridge inspection program manager for Stantec, says, "Comprehensive climb training is essential for the safety of personnel as well as for the appropriate selection of techniques and equipment for a particular task."
Caltrans is using the rope access technique to inspect more than 50 bridges in California that can't easily be accessed by traditional methods. This may be due to fears over earthquake-weakened structures or as a way of reducing the need for extensive traffic controls at peak times. Traditional bridge inspections often require lane closures, whereas rope access inspections use no mechanical equipment that would require that step.
However, not all bridges are suitable. Concrete structures, for instance, may not have enough anchor points. Nataluk said, "On a lot of traditional concrete bridges, there aren't many tie-off points, and most owners don't want you drilling into their structures. On steel structures, there are a lot of places where you can tie off your anchors. This facilitates better climbing."
It's fascinating how a seemingly unrelated skill has been harnessed to assist in bridge inspections. It's also remarkable to see the awe-inspiring situations in which engineers find themselves. Head over to the Better Roads gallery to see what we mean.
Other posts on this topic:
The Trouble With Our Bridges
The Fix We're In For: The State of California's Bridges
Calif. Department of Water Resources Halts Allocation Amid Worst-Ever Outlook