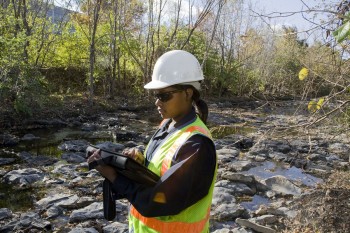 Monitoring environmental compliance is no easy task. A great deal of coordination and information exchange is needed to verify that construction programs adhere to legal standards.
In order to effectively monitor environmental compliance, timely and accurate compilation of data is required throughout the execution of large construction programs. As a means of streamlining compliance monitoring, my team and I have implemented a GIS-based system for field collection and reporting of compliance data, which encompasses biological, air quality, water quality, cultural resources, safety and hazardous materials. The system replaces paper maps with modern technology and provides information that facilitates the reporting process and allows adjustments to construction activities based on data. In short, technology allows us to process large amounts of data, adapt on the fly and realize greater efficiencies — both for our team and for our clients.
GIS Component
When it comes to data collection, traditional approaches to compliance monitoring can be problematic. The good news is that technology now offers solutions that improve the accuracy of data collection, particularly for linear construction programs. Using a GIS component allows those involved in a project to widely use the data as soon as it's collected. Our personal preference for storing and distributing this data is through a server platform called the ESRI™ ArcGIS Server, which hosts the data around its Spatial Data Engine (ArcSDE) on the Microsoft SQL Server database platform.
OneTouchPM™
Another new technology used in large construction programs is a solution our tech team developed, a custom Google Earth Enterprise solution we call OneTouchPM™. It gathers data from several project resources and presents it in a 3-D visual environment that automatically updates. Current environmental observations can be examined through other forms of data — things like scheduling, engineering and weather — that give us a complete picture of a project's activity and any constraints. In addition to GIS data, OneTouchPM™ also uses other project data sources to keep the project team fully up to date.
Benefits to Construction Projects
Because these new technologies allow data to be gathered effectively, everyone involved in a project benefits because they have easy access to activity reports. Being able to provide information on different platforms and in the appropriate context ensures everyone is working with the same information and the same set of variables, in real time. This level of data means construction planners can begin work early in the morning and have access to information from the previous day's activities. Environmental managers have the information they need at their fingertips, which helps streamline communications and make collaboration more seamless. And perhaps most importantly, construction managers have the information needed to alleviate impacts to the environment.
Paperless Mapping
Producing printed maps is costly and time consuming, especially for projects that cover a large area. Paper maps also become quickly outdated. By using technology that provides access to the most recent GIS data, paper maps are no longer needed, resulting in lower costs and more accurate information. Also, the demand for unplanned map requests can be met simply, by using desktop tools to assemble the required information.
Better Quality Assurance and Quality Control
Through the careful design of data collection forms, steps can be taken to verify information as it's collected and to check that all required fields are completed for every record. Similarly, spell checking tools eliminate the need for corrections at the review stage. Dropdown lists also ensure values are consistent within fields, as well as make data easier to filter and sort. Using GPS also provides accurate coordinates that can't be corrupted during collection or transcription. These may seem like small things, but for engineers, the devil is always in the details. Identifying these quality control issues by traditional means is a drain on resources, so the integration of technology is a big step forward.
Automated Reporting
Reporting is a necessity for any construction program and can be costly using traditional processes. A database approach, however, allows robust report generation. Many reporting tools are available to produce reports that are easy to follow. One necessary constant: a common document format to allow for editing. Automated reports can include photographs and graphics and can be filtered to show a specific area of information.
How are you using technology to make what your daily work more efficient and more effective? If you're in the business of environmental compliance monitoring, I'd love to hear what you think — about some of the tech outlined above, as well as what you're using and liking. If you're headed to the National Association of Environmental Professionals annual conference on April 7-10, let me know, and we'll make it a point to connect while there. Lastly, if tech and environmental compliance monitoring is an area of interest to you, I'll be presenting on this topic at the conference at 3:15 p.m. on April 10. I've also written about this topic in greater depth in a white paper, linked at the bottom of this post.
David Smith manages the technology consulting department for Burns & McDonnell's California offices, where he works with project stakeholders to apply technology solutions in support of project execution. He began his career with Burns & McDonnell 19 years ago as an environmental specialist and has worked with geographic information systems and other supporting technologies over the past 17 years.
Other resources on this topic:
Whitepaper: Tools and Methods for Environmental Compliance Monitoring for Construction Programs