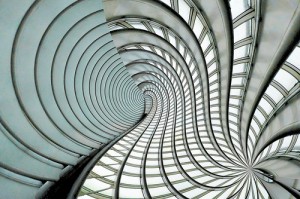 Technologies previously used alone are beginning to converge and collide, with major implications for building design, business and sustainability. According a recent report called "Verge and the Built Environment" from GreenBiz Group, the technological development of the future will be less about linear thinking and assembly line production and more about integration in support of an optimized whole. This is something we see coming true in our own business and with our clients as a whole.
According to the report, the catalyst for this integration is the explosion of information and communication technologies. Certainly, the built environment is testament to such an increase: Sensors and smart meter technologies are systematically becoming part of design-build projects. The evolution of technology has meant that modern buildings are more often designed with connectivity in mind, facilitating monitoring and control through cross-platform management systems. As mobile broadband expands and "conversations" between intelligent devices are further enabled, this convergence is, the report says, likely to gather momentum.
Indeed, there are already some signs that the convergence between energy, information, buildings and transportation might be having an impact. Evidence:
A reduction in projected carbon dioxide emissions.
A reduction in vehicle miles traveled per capita.
Increased fixed broadband penetration.
Reduced building energy use.
Reduced residential energy use projections.
Although many of these factors are influenced by other economic and social factors, the authors of the report say there is more to it than that.
So what are the main areas affected by technological convergence, according to the report?
Buildings: Technological changes, individual preferences and changing demographics mean that businesses and retailers are trying to get more out of the space that they already have. ICT advances are enabling employers to reduce the space required per employee. This solution gives employees the ability to work remotely, meaning that less floor space will be built for commerce in the future. Many businesses and retailers are pursuing a more urban strategy with implications for suburban office parks and malls, which might evolve into mixed-use areas.
Transportation: With technology allowing access to people, goods and services almost anytime and anywhere, many people are choosing the convenience of virtual services over physical mobility. This change, which is particularly evident in younger generations, has created a trend toward more dense urban living and growing preferences for public transit, bicycling and walking over automobiles. Although the report says it's too early to say that America's love affair with the automobile is over, these changes are likely to influence housing and transportation planning in the future.
Energy: Renewable technologies such as solar and wind power are leading to a rapid increase in building-integrated technology. We know that building-integrated solar and wind systems have seen a dramatic increase in popularity during the past two years. Although the overall contribution is still small, the rapid growth rate is an indicator for the future. The introduction of Smart Grid technologies, backed up by initiatives such as the U.S. Green Building Council's Leadership in Energy and Environmental Design (LEED) rating system and the ASHRAE national energy standard, continue to exert influence in lowering energy intensity in the building sector.
Information Technology: Information and communication technologies allow for a greater understanding of how a building can be managed more efficiently and effectively. The authors of this report see a continuing move toward autonomous control in real time management of resources as technologies are developed and enhanced. They do however, warn against the dangers of relying on the mass of data collected; a decent-sized building can have thousands of integrated sensors producing millions of pieces of data each day. This information can be challenging to handle and will need to be managed, analyzed, interpreted and acted upon effectively.
This is just a snapshot of the research — here's a link so that you can download the full report (registration required).
photo credit: josef.stuefer via photopin cc